Best breast reduction surgery reduces the size of oversized breasts
Are you not able to wear your button-down shirt because your fun bags peep out from your button spacing?
Living with a heavy breast can be very difficult. Besides, dodging those uncomfortable looks, and lewd comments, you are expected to take criticism from your family and friends positively.
Because of the uncomfortable stares, several women with heavy breasts avoid social gatherings.
While everyone is making fun of women for their disproportionately large breasts, we know it is difficult for them to lose weight; because it is difficult for women with heavy busts to do simple activities like running, aerobics and Zumba.
Moreover, women with heavy melons find it challenging to choose a perfect dress that hides those extra bulges while managing their neck and back pain because of the heaviness.
We feel your agony and know how much you have suffered while carrying those heavy melons, dodging those uncomfortable stares, smiling on the satires your female folks must have cracked on you for your heavy breast.
But you can cut short your suffering and unburden yourself from carrying those heavy breasts anymore. With breast reduction surgery in India, shed the extra weights of your breast that you have been bearing up with, for years.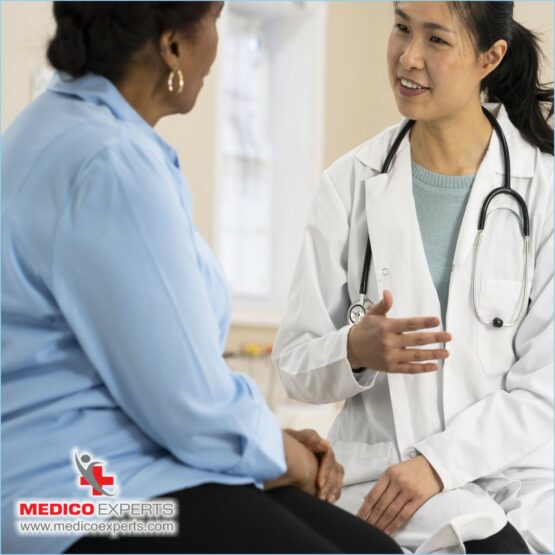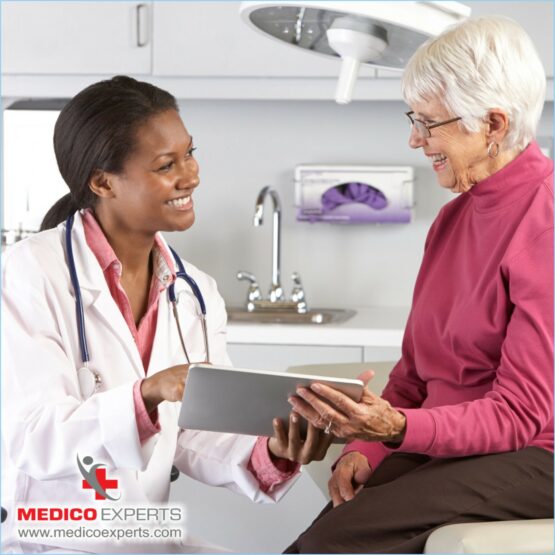 Brace a more confident you while strongly refuting those uncomfortable stares and satires. Like Catherine from London did.
Catherine, a 35-year-old pianist, loved performing at parties and other social events. Music was her passion, and she loved to perform for her audience. While Catherine enjoyed performing for live shows, she noticed that some people from her audience stared at her bust, which made her feel vulnerable.
After that, Catherine felt that men were staring at her boobs, while she was performing. Catherine's consciousness was somehow affecting her performance, and she knew that she needed to fix it.
Initially, Catherine masked her over bulge by using some wardrobe tricks, but these tricks were just temporary. Her big boobs were now making her back and neck pain which was another hurdle for Catherine to manage before a performance.
Catherine knew she needed to fix her boobs as she was tired of the neck and back pain. Catherine searched for ways to reduce her bust, but none of them had lasting results. Finally, she decided to undergo breast reduction surgery.
After searching for clinics in London she came across a few clinics but the charges they quoted were a bit on the higher side. Disheartened Catherine started looking for overseas clinics that provide breast reduction surgery at a reasonable cost.
While searching online for clinics that offered breast reduction surgery in India. Catherine came across the MedicoExperts website and left her query with our sales team.
Soon after our sales team received Catherine's query, they contacted her and arranged a video consultation for her with the team of empaneled, board-certified cosmetic surgeons.
After the initial consultation with our empaneled doctors, Catherine was confident about undergoing her breast reduction surgery with us.
Catherine flew to India while we ensured a seamless admission for her to the hospital. At the hospital, the doctors performed some pre-procedure tests for Catherine to ensure that Catherine was fit to undergo the procedure.
Catherine underwent the surgery, without any hitch.
After the procedure, Catherine got emotional when she saw the results of the procedure. Catherine said that now nobody will make fun of or objectify her for her big boobs.
She was elated beyond measure and thanked the doctors for helping her achieve the perfect physique she had dreamt of for a long time.
Like, Catherine you too can get the perfect boobs you had always desired.
Let us first understand what breast reduction surgery is,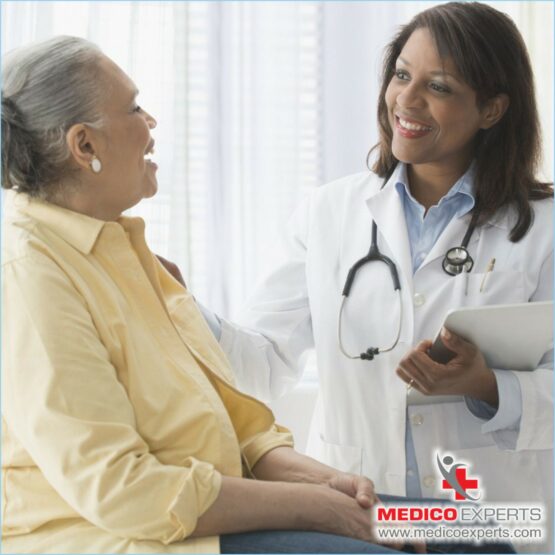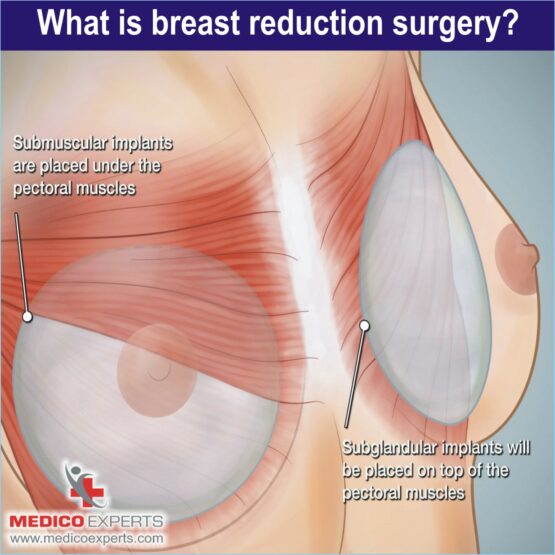 What is breast reduction surgery?
Breast reduction surgery or reduction mammoplasty is a surgical approach to remove excess fat, tissues and skin from the breast to reduce breast size, ease any discomfort and achieve a desirable breast size that is proportionate to your body.
With breast reduction surgery, you can revive your lost confidence and can enjoy outdoor activities like running and dancing without getting concerned about your jiggling boobs.
Why should you undergo breast reduction surgery?
Breast reduction surgery has helped several women folk in gaining confidence by helping them achieve their desired breast shape. Besides diminishing the breast volume of women the breast reduction surgery also helps them resolve issues like:
Chronic pain in the neck, and back

The sudden nerve pain that arouses in the breast

Skin rashes that developed on the skin under the breast due to irritation, or sweating.

Inability to find perfectly fitting clothes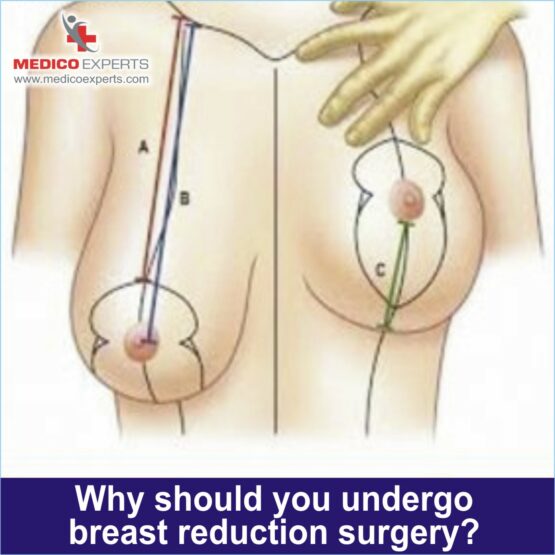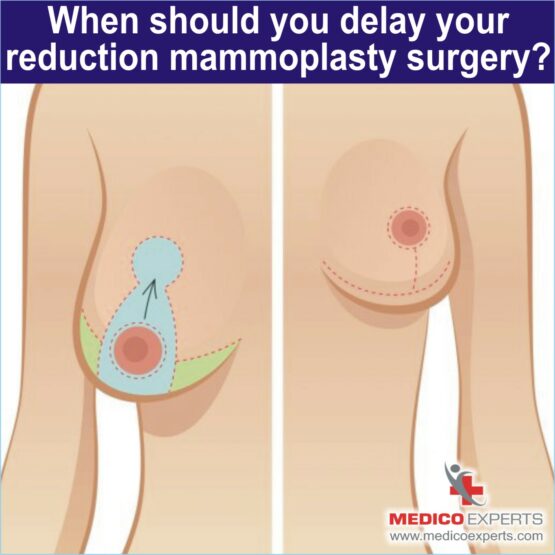 When should you delay your reduction mammoplasty surgery?
Society often looks down on and objectifies women with larger breasts. This can be very disheartening for any woman, especially young girls who get bullied because of their breast size.
Although you can have breast reduction surgery at any age, you might consider postponing your breast reduction surgery if you have plans for:
Having a child in the future

Losing weight.
What are the different types of procedures used for breast reduction surgery?
The three most common techniques used by the cosmetic surgeon to reduce the size of your melons are:
Liposuction breast reduction surgery is a minimally invasive approach for reducing breast size by removing fats from the breasts that offer lasting results with negligible scarring. Although you can reduce breast size using this method the overall shape and the contour of the breast will remain unchanged.
Vertical breast reduction is often referred to as lollipop breast reduction. During vertical breast reduction, your surgeon makes two incisions around the breasts. Although this type of breast reduction causes scarring, the scars usually hide under the breasts. 
Vertical breast reduction helps women looking for mild or moderate breast reduction.
Anchor breast reduction or the inverted T breast reduction surgery is helpful for women with significant breast sagging or for women who need a significant reduction in their breast size. 
During an anchor breast reduction surgery, your surgeon makes two incisions underneath the breast, which can cause significant scarring. However, these scars usually get concealed by the breasts.
Who is the ideal candidate for breast reduction surgery?
Before you undergo your much-desired breast reduction surgery, you must check your eligibility to undergo it. Your cosmetic surgeon may ask you to refrain from breast reduction surgery if you:
Smoke tobacco

Are you on medicines that affect the ability of your blood to clot like, aspirin

Are overweight

Have certain chronic health conditions like hypertension or diabetes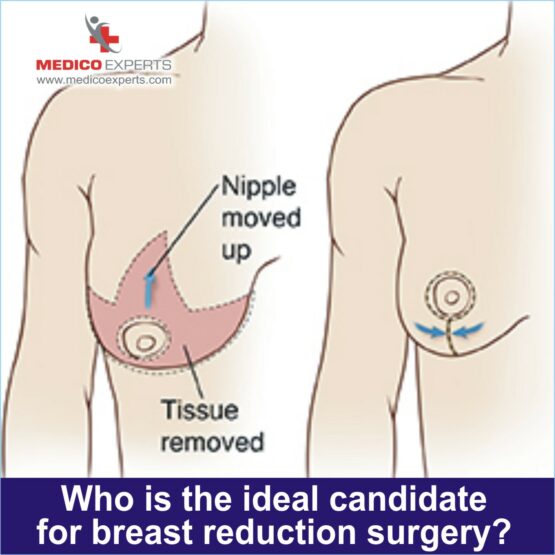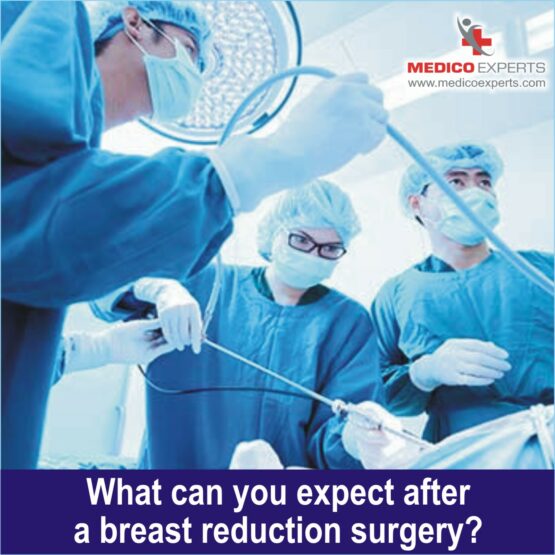 What can you expect after a breast reduction surgery?
After going through a surgery you dreamed of, we know that you might be excited to see the results. But, before you get any results, your breast may feel a bit tender, swollen, and bruised. However, within a few weeks, the swelling, pain, and tenderness will fade. 
Soon after the surgery, your surgeon may advise you to wear an elastic compression bra to support your bust for the first few weeks after the surgery. 
While you are healing after the surgery, your surgeon will advise you from refraining from doing strenuous exercises for about four weeks after the surgery. Also, your doctor may suggest you avoid wearing underwired bras as they may delay healing after the surgery.
How will you look after a breast reduction surgery?
We know you are excited to see the result of your breast reduction surgery. You can see the results of the surgery soon after your doctors remove the bandage wrapped around the incision. 
However, for a few weeks after the procedure, your breast may remain swollen.
Once the swelling subsides, you can see the result of the procedure. Also, with time the incision scars heal. 
The results of the procedure are generally permanent, however, with age and weight fluctuation, the shape and size of your breast may change.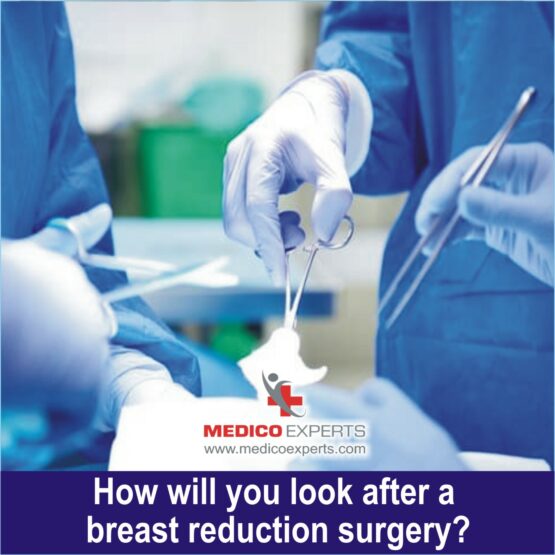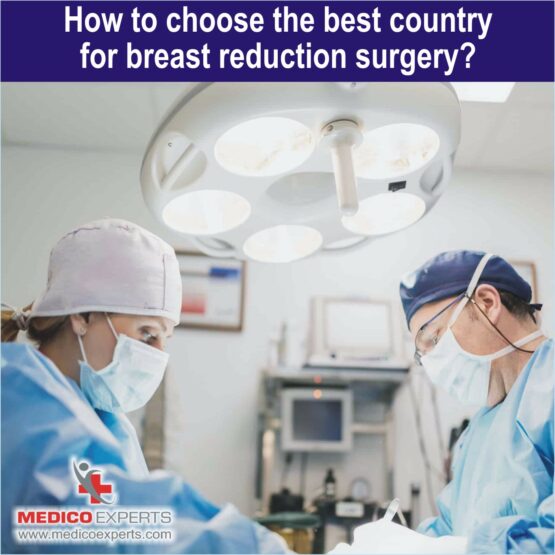 How to choose the best country for breast reduction surgery?
Managing those extra weights for so long might have been distressing for you. But we can help you choose the best country for your breast reduction surgery.
While western countries like the UK, and the US offer advanced cosmetic procedures, the cost of breast reduction surgery in these nations may be on a bit higher side. 
However, unlike in several western countries, the cost of breast reduction surgery in India is almost half.
India has emerged as one of the favorite destinations for people globally to get their treatment done. Also, the access to world-class treatment and efficient post-operative care at affordable prices has attracted many to India for treatment. 
Also, India houses a few of the world's best cosmetic surgeons with specialized and well-trained operative and post-operative care teams who are capable of handling complex cases.
How to choose the best hospital for breast reduction surgery?
Reduction mammoplasty surgery is an invasive procedure that requires the expertise of an experienced surgeon and efficient post-procedure care. Therefore, you must choose a hospital that offers world-class healthcare services. 
Besides, looking for a hospital that provides world-class facilities, you must also ensure that the hospital you have chosen has a dedicated unit for cosmetic procedures and post-care.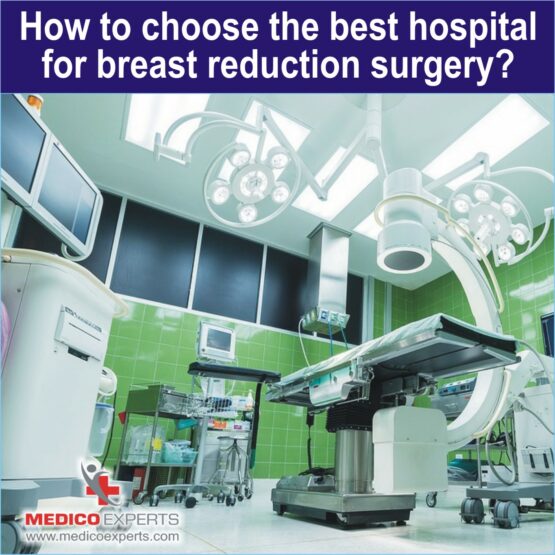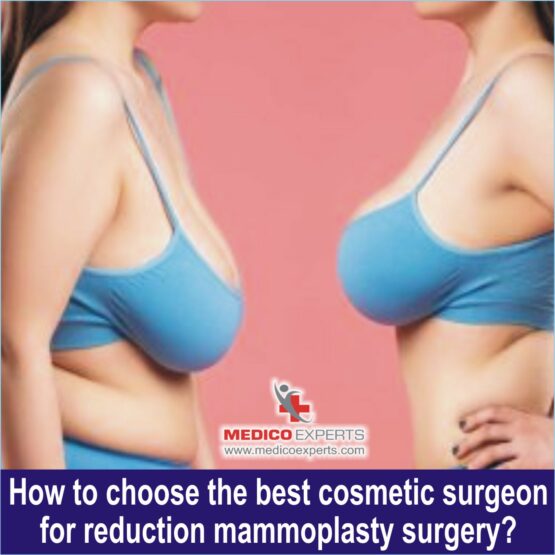 How to choose the best cosmetic surgeon for reduction mammoplasty surgery?
Staying with those big melons for this long is not easy. Now that you have decided to get a breast reduction surgery done we suggest you choose a good cosmetic surgeon after doing a lot of research. 
Only after you are satisfied that the surgeon you have chosen is good you should proceed with the procedure because the cosmetic surgeon you choose will change the way you look for the rest of your life.
While choosing a cosmetic surgeon for your reduction mammoplasty, you must ensure:
Your doctor has a board certification

Ensure that your doctor has adequate experience in the specific procedure you want him to do.

Choose a cosmetic surgeon with whom you are comfortable with

Consult a doctor whose aesthetic sense appeals to you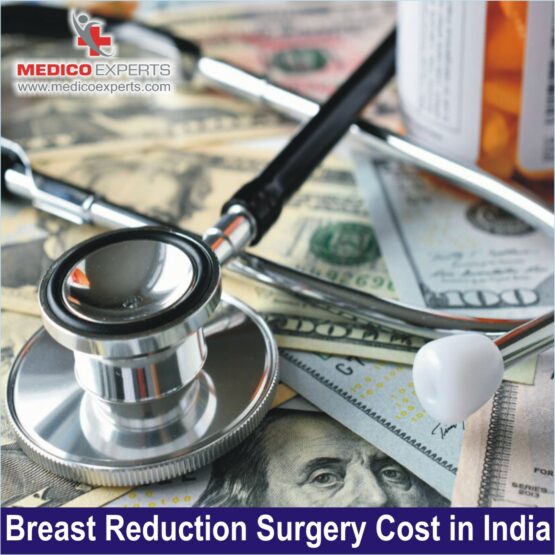 What is the cost of breast reduction surgery in India?
The cost of breast reduction surgery in India usually costs around 2500 – 3000 USD (190760 – 228912 INR).
However, this cost can differ based on the choice you make, like
the fees of the cosmetic surgeon you choose, 

the surgical procedure used 

the hospital and city you choose
What is the success rate of breast reduction in India?
Bid adieu, to neck and back pain with breast reduction surgery. Through the expertise of the best cosmetic surgeons in India, several women have claimed to have extremely satisfying results. The success rate of breast reduction in India, among hospitals and surgeons, is above 98 per cent.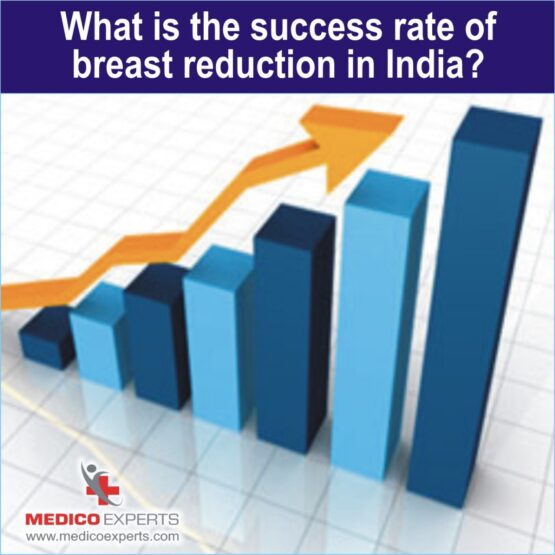 Frequently Asked Questions and patient concerns:
1. Is breast reduction surgery covered under insurance?
Most of the insurance companies cover breast reduction surgery as it is more than a cosmetic procedure. However, the insurance company may need suggestive proof that the over-sized breasts were causing medical issues.
2. Who is a good candidate for the breast reduction procedure?
A popular misconception is that only women with very over-sized breasts are good candidates for a breast reduction. But that is not the case, according to your body structure, if the breasts are causing pain and discomfort, you are the right candidate for the procedure.
3. What are the most common benefits of breast reduction surgery?
Post breast reduction surgery, you will experience and immediate end to your neck and back pain. During the post-op period, you will notice that you are capable of having a more active life without discomfort or embarrassment while working-out.
4. What are the risks involved with breast reduction surgery?
Very rarely, some loss of breast tissue may occur as a result of inadequate blood flow to the remaining breast tissue. This occurs more frequently in women who smoke. Occasionally, the reduced breasts are slightly uneven in size. In very rare occasion, surgical scars remain dark and raised after complete healing has occurred.
5. Are there different kinds of breast reduction procedures?
Yes, different techniques for different sizes and shapes of breasts. Breast reduction surgery is considered reconstructive, not simply cosmetic surgery.
6. How soon will I be able to get back to my daily routine?
It takes about several days to about 2 weeks for you to be able to get back to normal routine. However, it is suggested that you refrain from strenuous exercise and heavy lifting until a month or so.
7. How long does breast reduction surgery take?
Usually, it takes around 2-5 hours for breast reduction surgery. However, sometimes it may even take even a bit longer depending on the procedure involved.
8. How long does it take to recover from breast reduction surgery?
Generally, it takes around six months to recover completely from breast reduction surgery. However, you may begin to feel better within a few weeks after the surgery, your doctor may advise a few cares that you must take for these initial six months.
9. Are there any kinds of risks from breast reduction?
Typically there are no side effects of breast reduction surgery; however, sometimes, a few women complain of:
Loss of sensation around the nipples

Difficulty to breastfeed

The difference in size, shape and symmetry of the breast

Scarring
10. How long does it take for stitches to come out after reduction?
Typically, your doctor will remove the stitches after two weeks of your breast reduction surgery. But your breasts may remain tender despite the removal of the stitches for the next few weeks. Usually, the swelling and bruising fade slowly within a few weeks after the procedure.
11. Does my insurance cover the cost of my breast reduction surgery?
Most insurance companies consider breast reduction surgery as a cosmetic procedure. However, the insurance company may cover your breast reduction surgery cost if you provide them with suggestive proof that the oversized breasts were causing medical issues.
12. How many cup sizes will my breast go after a breast reduction surgery?
Once your doctor examines you, only then he can suggest the achievable reduction size for you.
13. How will my look get altered before and after my breast reduction surgery?
Before breast reduction, your breast would have been oversized, which may cause neck and back pain. Also, buying clothes and a bra would be difficult. You may also see some spillage from your bra.
But after the surgery, your breast size reduces, and you can find well-fitting bras and dresses. When you wear a well-fitted bra that causes no spillage of the breast, you will appear more appealing while maintaining a proportionate size with your overall physique.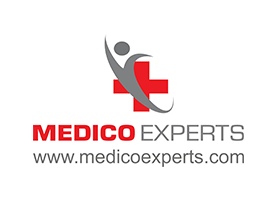 MedicoExperts is a Global virtual hospital which is established to offer quality healthcare services at affordable pricing without compromising the success rates of the treatment.
MedicoExperts is having a network of highly experienced super specialist doctors and well equipped hospitals across the globe and offering second opinion through online video consultation and surgical interventions through its empanelled super specialist doctors at its network hospitals in 17 countries from 3 continents.
By the virtue of its approach and model, MedicoExperts is successfully achieve to deliver
Latest and most advanced treatments with success rates of international benchmarks.
Multiple cost options depending upon the hospital facilities, with the same doctor.
Treatment option in multiple cities/state/countries.
Trust and peace of mind.
Most suitable for patients who are looking for:-
Planned Surgeries and treatment from most experienced doctors and at multiple cost options as per hospital facilities with best possible outcomes.
Second Opinion from expert doctors.
Complex cases involving multi specialities
International patients looking for treatment from Indian doctors