Best ovarian cancer treatment in India with cutting-edge technologies with the highest survival rate.
The most dangerous gynecological cancer is ovarian cancer because of its asymptomatic nature. Ovarian cancer couldn't be found early due to a lack of active screening, and early detection techniques.
Detection of cancer itself is a matter of great concern. However, with the advanced ovarian cancer treatment in India, the survival rates are also increasing. 
Let me introduce you to Tiffany, a 45-year-old from Kampala, Uganda, an ovarian cancer patient who survived it, and now she wants other women around the world to learn from her experience. 
Tiffany is a mother of two daughters and works in the insurance industry. Tiffany's husband Ted is a caring husband. She is a very active and fun-loving woman.
Three years back, Tiffany started having some bloating and unexplained weight gain. She went to a couple of doctors and had an X-ray and EGD (also called upper endoscopy, a test to examine the lining of the esophagus, stomach, and first part of the small intestine). Tests could not find anything.
Next month, she went on a vacation with her best friend on her birthday. She had amazing food and drinks on the beach and took a nap. She began to vomit while she was asleep. She knew that something was wrong and she decided to see the gastroenterologist back who had done the EGD.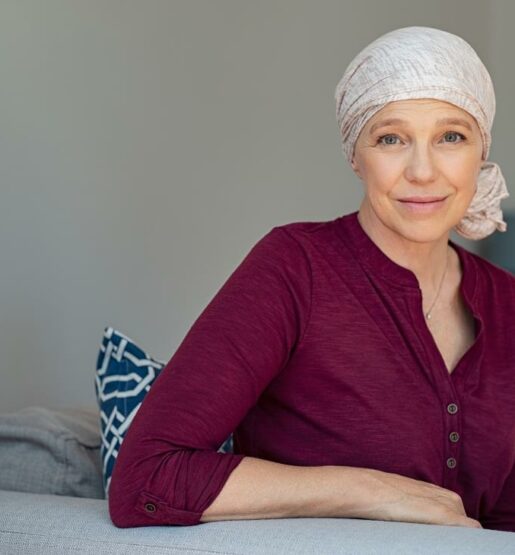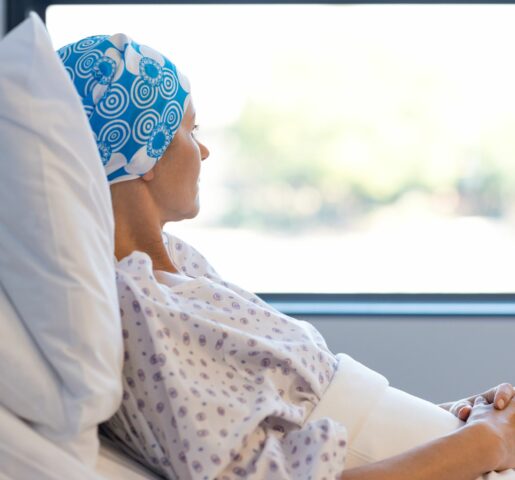 The doctor said that she had a disorder that didn't allow food to properly digest in her body. Tiffany didn't get convinced with the doctor's advice and decided to meet another Gastroenterologist doctor who examined her stomach and suggested she do a CT scan. 
The next day the test report came and the doctor called Tiffany to come to the hospital and informed her that she had ovarian cancer. She was in shock and became uncontrollable.
Ted supported her and they both came back to home. Luckily Ted's aunt is a nurse in the hospital and advised Ted to not to take any risk and visit India for treatment and Ted's aunt already knew about MedicoExperts as MedicoExperts visit regularly in their hospital for conducting medical and surgical camps. Ted's aunt forwarded the MedicoExperts number to Ted.
Ted contacted MedicoExperts and forwarded all the reports. The MedicoExperts team explained the tumor board approach for the treatment and also arranged online video consultation with the gynec oncologist.
Tiffany and Ted had so many doubts regarding the treatment. All of them were cleared during the online consultations. After understanding all the aspects of the treatment protocol, they decided to come to India for the treatment.
After landing, she was admitted to the hospital and the evaluation test was performed to check the spread of cancer. After analyzing the reports the doctor decided to perform surgery and chemotherapy and explained to Ted and Tiffany regarding the treatment approach and the reasons behind the approach. 
The doctor performed a radical hysterectomy and six rounds of chemotherapy. After her treatment was finished reevaluation tests were performed to check the outcome of the treatment. The result came and no cancer was detected. 
Tiffany and Ted were very happy with the outcome and thanked the MedicoExperts doctors for the treatment and MedicoExperts team for support.
This could be your story as well to defeat ovarian cancer.
Before we start our discussion on different options to treat ovarian cancer, Let's first understand what Ovarian cancer is.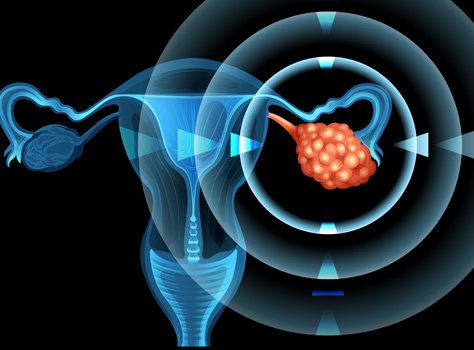 Ovarian cancer refers to unusual growth appearing in different parts of the ovaries.
The ovary is a part of a woman's reproductive system where eggs are developed.
Most ovarian cancers start from the surface of the ovary called 'epithelial cancer'.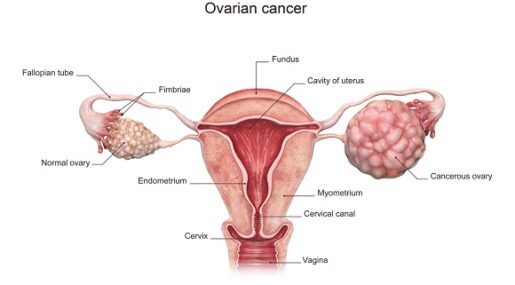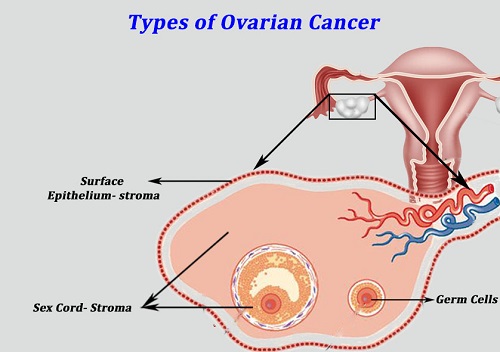 What are the different types of Ovarian Cancer?
The type of cell where cancer starts determines the type of ovarian cancer that include:
Epithelial cancer:
This is the most common ovarian cancer. It starts on the top of the ovary.
Stromal tumors:
These tumors are diagnosed at an earlier stage. It starts to grow in the hormone-producing cells.
Germ cell tumors:
These are rare tumors that occur at a younger age. These develop in the egg-producing cells.
Ovarian Cancer often does not show symptoms but as cancer grows, the following symptoms can be seen:
Abdominal bloating or swelling

Weight loss

Pain the abdomen, pelvis, back, or legs

Fatigue

Back pain

Nausea, Constipation, Indigestion, or diarrhea

Frequent urination

Shortness of breath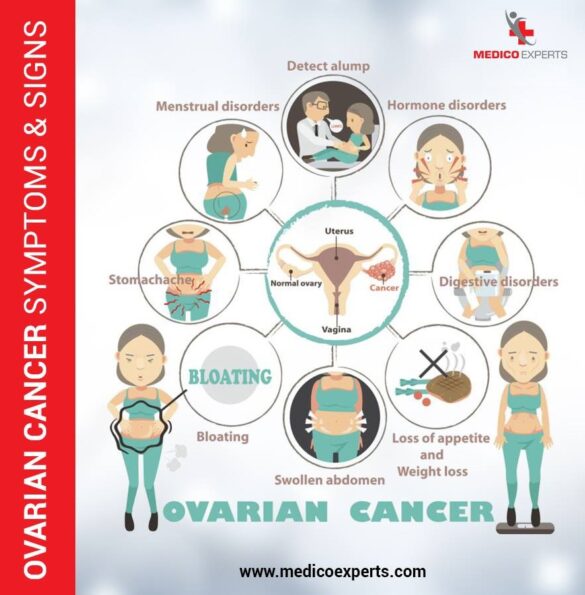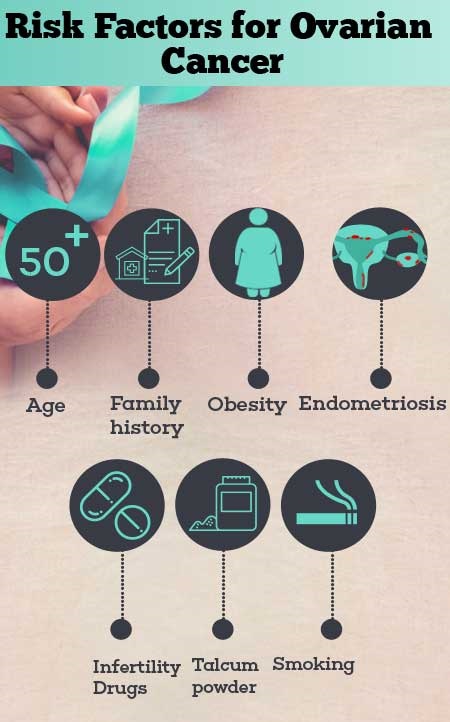 The risk factors for ovarian cancer include:
Age

– The risk of ovary cancer rises with age. It is most often detected in older adults.

Never had children

– If you've never been pregnant, you may have increased chances of getting ovarian cancer.

Family record of ovarian cancer

– If you have relatives who have been diagnosed with ovarian cancer, then you may have an increased risk of having it.

Early or late start of menstruation

– Beginning menstruation in the early stage or later stage increases the risk of ovarian cancer.

Overweight

– Being overweight or obese also increases the chances of ovarian cancer.

Endometriosis

– It is often a painful illness in which tissue inside of the uterus starts growing outside the uterus.
Most cases of ovarian cancer develop after menopause. It is possible to have ovarian cancer without having any risk factors. Similarly, any of these factors doesn't necessarily mean that you will develop ovarian cancer
Your doctor will determine the treatment plan based on how far cancer has spread and most likely to involve a combination of two or more treatments.
Typically the primary approach of your doctor while treating your ovarian cancer is to manage the symptoms caused by ovarian cancer. Although it is not uncommon to experience symptoms in the initial stage, however, it can be painful for one to live with advanced cancer.
Once your doctor confirms ovarian cancer, your doctor may prescribe you medication to slow down the progression of the disease. 
Also, your doctor may advise you for some tests to determine the extent of the spread of cancer. Based on the spread of cancer, your doctor will choose the best treatment suitable for you.  
Living with ovarian cancer can be depressing and painful. While we all look for the best treatment options to reverse this condition, we also consider world-class services.
It is humane to look for treatment facilities that provide world-class treatment at an affordable price.
But while you are choosing a country for ovarian cancer treatment, you ensure:
Health care facilities and other advanced technologies offered by that country for the treatment.

The success rate of ovarian cancer treatment in India

Survival ratios of the people who underwent ovarian cancer

Cost of treatment, and stay in that country
Apart from ensuring the following factors, you must consider logistic factors like connecting flights, transportation and safety for the chosen country.
While many of us may consider western nations for the treatment of ovarian cancer, India has emerged as one of the leading countries that provide the best healthcare facilities with high success and survival ratios.
The availability of world-class treatment and the dedicated post-care facility has attracted many women to India to get their ovarian cancer treatment done in India at an affordable price which is almost half of what it would have cost you in western countries.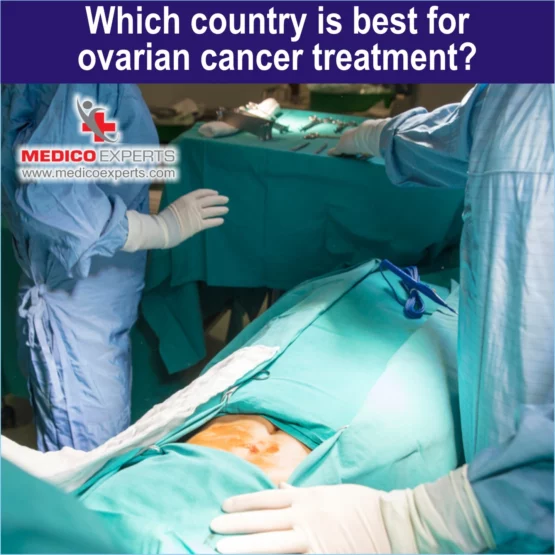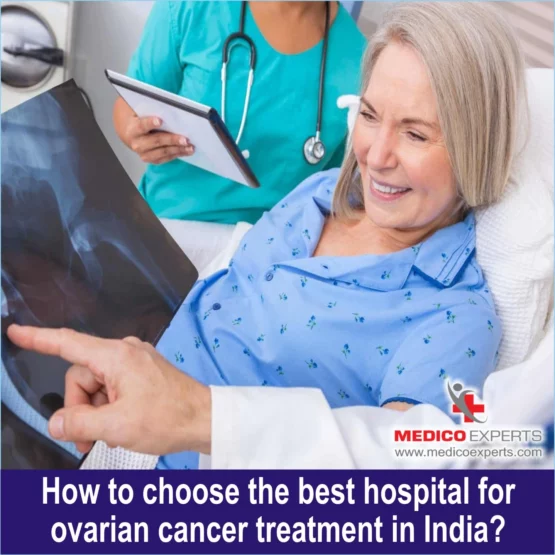 How to choose the best hospital for ovarian cancer treatment in India?
Selecting a hospital for cancer treatment can be overwhelming. When choosing a hospital for cancer treatment, you must ascertain that the hospital you have chosen is equipped with the latest cancer treatment technologies and has a multidisciplinary approach.
The multidisciplinary approach provided by the hospital enables you to get access to specialists including, cancer surgeons, medical oncologists, radiation oncologists, well-trained nurses and social workers. These specialists work together to ensure the best treatment plan for you.
Apart from selecting a hospital with world-class facilities, you must ensure that the selected hospital has a dedicated unit for cancer treatment and a well-trained post-care team.
Also, check the cancer treatment success and survival rate of the hospital you have selected.
Choosing an oncologist is crucial, and a big decision for you to make. While you make this difficult decision here, are a few tips that can help you select the best doctor for you:
Ensure that your doctor is board-certified.

Check for your doctor's experience and expertise in ovarian cancer treatment

Ask your doctor if he has a team of specialists for treating ovarian cancer

Choose a doctor whom you trust and are comfortable with
If you are not sure about the doctor, please seek a second opinion because treatment for ovarian cancer needs the expertise and experience of a skilled and well-trained cancer specialist.
Now, Let's check ovarian cancer treatment cost in India.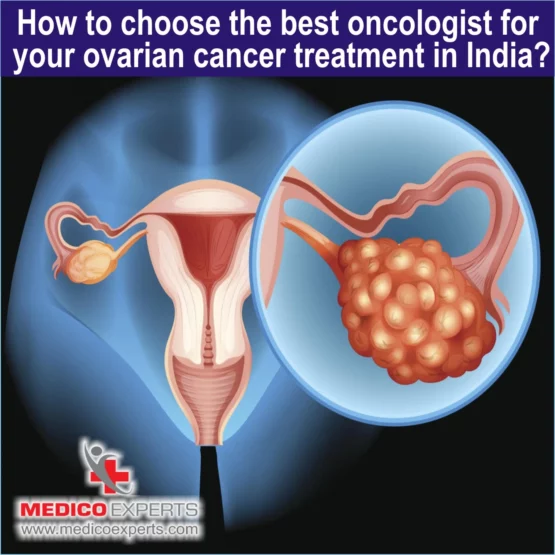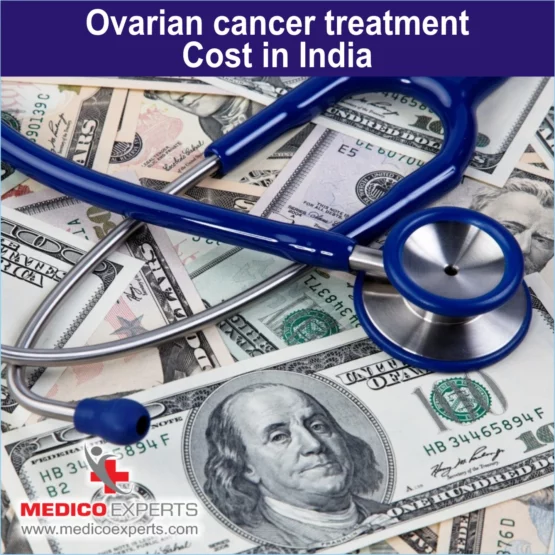 Ovarian cancer treatment cost in India
The cost of ovarian cancer treatment in India depends upon the type of treatment carried out. Private hospitals may charge 675.75 –  2027 USD (Rs 50,000 to Rs 1,50,000 INR) for one cycle of chemotherapy.
Radiotherapy can cost up to 2702 USD (Rs 2,00,000 INR) and surgery may cost up to 4324 USD (Rs 3,20,000 INR).
The treatment of ovarian cancer involves a combination of these treatments hence the total cost might go up to 13514 USD (Rs 10,00,000 INR).
The five-year survival rate of ovarian cancer found at an early stage (stage I) is very good i.e., 93%.
However, the five-year survival rate of ovarian cancer treatment in India for all women diagnosed with ovarian cancer is only 48% since it is often found at an advanced stage in which the disease has already spread within the abdomen.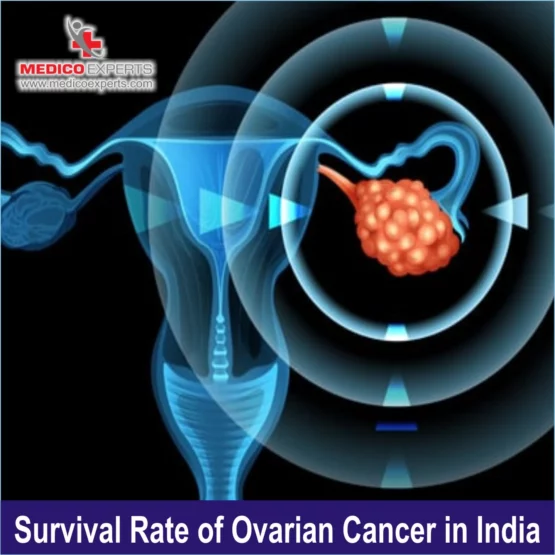 Frequently Asked Questions and patient concerns:
Q1. Is Ovarian Cancer curable?
Ans: All types of ovarian cancer are treatable if diagnosed at an early stage.
Q2. Does Ovarian Cancer spread quickly?
Ans: Ovarian cancer grows faster and can progress from early-stage to advanced-stage within a year.
Q3. How to check for Ovarian Cancer at home?
Ans: It is not possible to diagnose ovarian cancer at home, but if you are aware of the symptoms then you can ask the doctor for medical advice.
Q4: At what age can you get Ovarian Cancer?
Ans: The risk of ovarian cancer increases with age. Most ovarian cancer develops after menopause and half of them are found in women 65 years or above. It is rare in women below the age of 40. Women over the age of 50 have a higher risk of ovarian cancer.
Q5. When should you be screened for Ovarian Cancer?
Ans: The screening may be recommended starting at the age of 30 to 35, or 5 to 10 years earlier than the age at which a family member was diagnosed. Screening may include a blood test for CA-125 and a pelvic ultrasound.
Q6. How to detect Ovarian Cancer?
Ans: Only about 20% of ovarian cancers are found at an early stage which has a great five-year survival rate (93%). Hence it is recommended for below to detect ovarian cancer early.
Have regular health exams

See a doctor if you find any symptoms

Screening tests for ovarian cancer
Q7. How to Prevent Ovarian Cancer?
Ans: There are no proven ways to prevention of ovarian cancer, but the below steps can lower the risk:
Taking contraceptive pills

Breastfeeding

Pregnancy

Surgery on reproductive organs like hysterectomy
Q8. How to prevent recurrence of Ovarian Cancer?
Ans: There is no way to prevent ovarian cancer from coming back. No specific diet can be prescribed as a proven method for ovarian cancer prevention. However, it is recommended to have a healthy diet, exercise, and see your cancer care team for follow-up visits.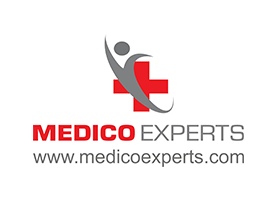 MedicoExperts is a Global virtual hospital which is established to offer quality healthcare services at affordable pricing without compromising the success rates of the treatment.
MedicoExperts is having a network of highly experienced super specialist doctors and well equipped hospitals across the globe and offering second opinion through online video consultation and surgical interventions through its empanelled super specialist doctors at its network hospitals in 17 countries from 3 continents.
By the virtue of its approach and model, MedicoExperts is successfully achieve to deliver
Latest and most advanced treatments with success rates of international benchmarks.
Multiple cost options depending upon the hospital facilities, with the same doctor.
Treatment option in multiple cities/state/countries.
Trust and peace of mind.
Most suitable for patients who are looking for:-
Planned Surgeries and treatment from most experienced doctors and at multiple cost options as per hospital facilities with best possible outcomes.
Second Opinion from expert doctors.
Complex cases involving multi specialities
International patients looking for treatment from Indian doctors