Advanced Bone marrow transplant in India with highest success rates
How can a bone marrow transplant bring a shattered life back on track?
Let's meet one of our patients, Alimayu from Ethiopia, who underwent a bone marrow transplant in India.
Alimayu is a 46-year-old young businessman from Addis Ababa, Ethiopia. He lives in the Bole area of Addis along with his father and mother, 2 Kids, and a wife. 
He always loved to travel to different places with his wife and children. He was living his dream life in a luxurious house for which he worked very hard. 
Life and his travel business was going great for him until when Alimayu fainted, all of a sudden, while he was taking a review meeting in his office. His colleagues and staff took him to a nearby hospital immediately. The doctor admitted him for observation and started the investigations to find out the root cause of the faintness. His blood test revealed that he had leukemia.
The news ran a strong wave of feelings of shock, disbelief, fear, anxiety, depression, sadness, and many more in Alimayu, his family, and his office staff. None of them are able to believe the news. All of a sudden, life had paused for them.
Alimayu even asked the doctor how it happened? What he had done wrong. 
The doctor said the reason for cancer cannot be determined and asked Alimayu to consult an oncologist on a priority basis.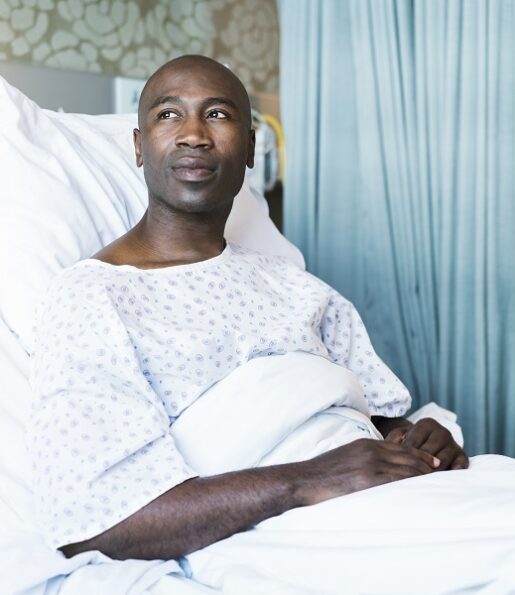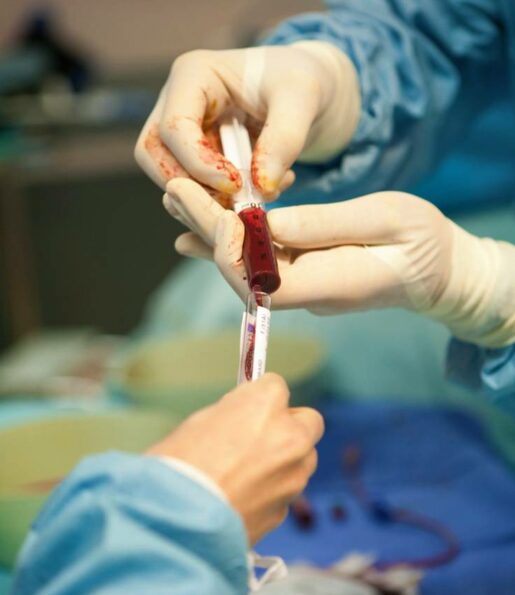 Alimayu consulted the oncologist and they have said that bone marrow transplant is the only curative treatment of leukemia. Since bone marrow transplant is a very costly treatment Alimayu had a difficult question in his mind whether he should go for it or save money for his family's future. He decided to fight for himself, his family, for the future of his business, and office staff.
Alimayu was searched exhaustively for a cost-effective bone marrow transplant. He got to know about MedicoExperts. He visited the website, read all the information, and left an inquiry. Medicoexpert's patient care executive got in touch with Alimayu and guided him for the next steps.
Alimayu consulted the MedicoExperts empanelled doctors on a video call and understood the detailed procedure including prerequisites, time frame, and commercial implications. He chose the doctor based on the budget, his own analysis, and MexicoExperts recommendation.
Luckily Alimayu's younger sister's bone marrow is matched and she is ready to help her brother.   
They came to India and were admitted to the hospital since it's a long treatment of 30 to 45 days they came prepared for it.
After chemotherapy and bone marrow transplant was conducted. He was advised to be in India for another 3 months.
When the whole process of treatments and follow-ups was concluded, Doctor declared the success of the procedure, and Alimayu, like other fights of his life, won the fight with leukemia. 
The doctor did emphasize to him that it's because of Alimayu's quick actions and timely decisions, doctors could produce wonderful results.
Let's now understand more about the procedure. As a first step, let's understand what bone marrow is.
The spongy substance found in the center of the bones is called bone marrow. 
Red bone marrow, also known as myeloid tissue, and yellow bone marrow, also known as fatty tissue, are the two types of bone marrow.
Red bone marrow contains blood stem cells that are responsible for generating new red blood cells, white blood cells, or platelets. 
Yellow bone marrow contains stem cells, which produce cartilage, fat, or bone cells and is mostly made up of fat.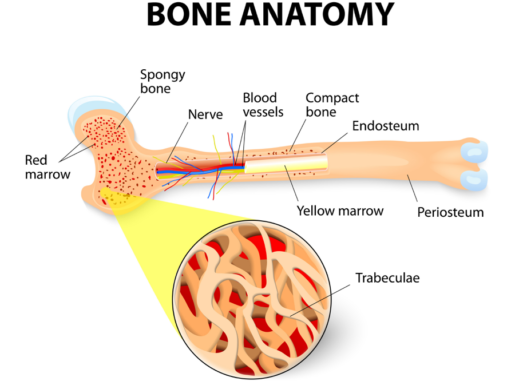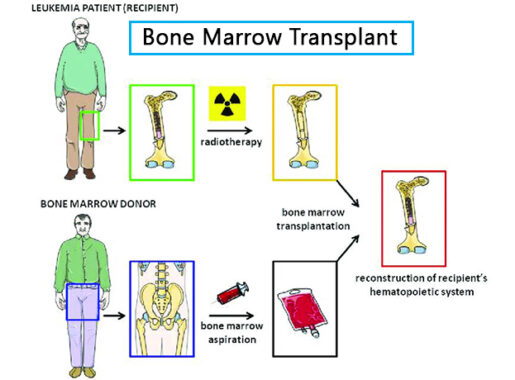 A bone marrow transplant is a treatment that replaces your damaged or diseased bone marrow with healthy bone marrow stem cells. Replacement cells can come from either your own body or a donor.
Transplantation can be used to treat cancers that affect the bone marrow, such as leukemia, myeloma, and lymphoma, as well as other blood and immune system diseases.
The cost of the transplant depends upon the type of transplant one has to undergo. Below we have explained the types of BMT treatment approaches:
The term auto refers to one's own "self".
An autologous transplant uses stem cells from your own body. Cancer is treated with high-dose, intensive chemotherapy or radiation therapy. This type of treatment has the potential to harm your stem cells and immune system. That's why, before starting cancer treatment, doctors remove or rescue your stem cells from your blood or bone marrow.
The stem cells are then returned to your body after chemotherapy, restoring your immune system as well as your body's ability to produce blood cells and fight infection. This procedure is also known as a stem cell rescue or an Autologous bone marrow transplant.
Allo is a term that means "other."
Stem cells are removed from another person, called a donor. The donor's genes must, in most cases, at least partially match yours. To determine if a donor is a good match for you, special tests are performed.
It's most likely that a brother or sister will be a good match. Parents, children, and other relatives can sometimes be a good match. 
Depending on the relation of the donor and matching of tissue, Allogenic BMT is further classified into 3 types. They are;
Complete Matched Sibling Donor BMT:

In this, the donor is most likely to be a brother or sister of the patient. These are often a complete match to the patient's tissue.

Haplo-identical BMT: It is a type of Allogenic BMT in which parents are usually a donor to the patient since they are a half match for their children. In cases, where a complete match is not found and the patients do not have any sibling, the expert surgeon considers parents to be a donor and perform Haploidentical BMT.
Unrelated Donor BMT: In cases, where there is no sibling and parents are also not a match for the patient, then Unrelated Donor BMT is the solution, in which a donor who is unrelated to you is made available for the transplant from the Donor Match Registry.
This is a type of allogeneic transplant. Right after birth, stem cells are extracted from a newborn baby's umbilical cord. The stem cells are frozen and kept until a transplant is required.
Because umbilical cord blood cells are so immature, perfect matching isn't required.
Blood counts take much longer to recover due to the lower number of stem cells.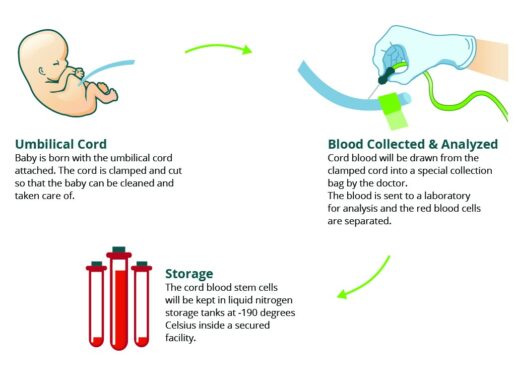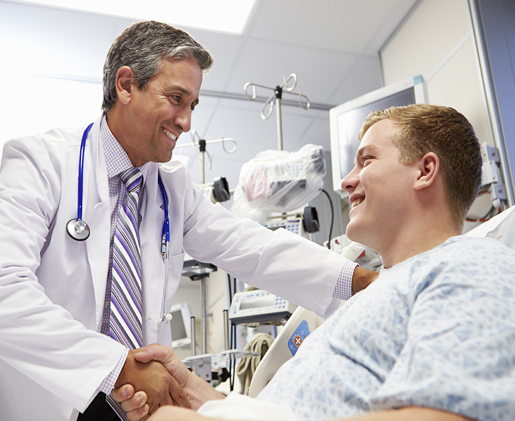 A bone marrow transplant is a decisive option when there is a prolonged complaint. The diseased bone marrow can be replaced by BMT treatment for the enlisted concerns when one is suffering from:
Cancer such as Leukaemia, Lymphoma, Multiple Myeloma.

Inherited Blood Cell Diseases such as Thalassemia and Sickle Cell Anaemia

Conditions in which the bone marrow stops producing new blood cells such as Aplastic Anaemia

Replacing the damaged bone marrow due to high doses of chemotherapy or radiation to treat certain malignancies

Congenital Neutropenia which results in recurrent infections
Why choose India for bone marrow transplant?
Advantages of Bone Marrow Transplant in India
Cost-effectiveness and trustworthiness make India a great choice for a bone marrow transplant procedure.

A staggering 60-90% success rate amongst the best bone marrow transplant hospitals in India.

A stay in the hospital for 30 days and 90 days stay in the country, is required.

Time-bound, special schemes with some associated hospitals for MedicoExperts patients
India - an advanced cost-effective option for BMT treatment
With the ever-advancing field of medicine and research technology, the pool of doctors and surgeons in India are erudite and with years of expertise in treating life-threatening diseases.
The infrastructure and technology of the top hospitals in India are at par with the facilities available in the western counterparts.
At one-third of the cost with the best surgeons in India, one can be assured of quality treatment and holistic care. Efforts have been also taken to reduce the cost for bone marrow transplant by focusing on newer strategies and advanced technologies to bring about effective healthcare.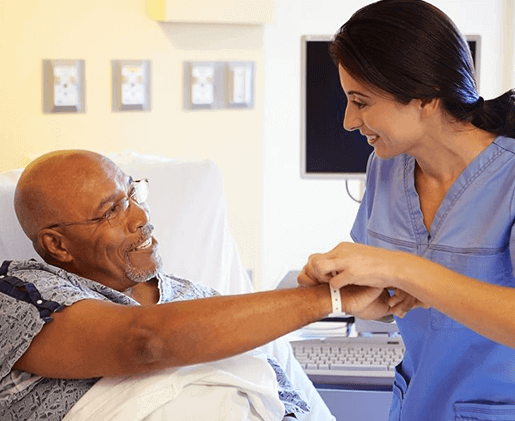 Reasons to choose India over other countries:
Economy and standard of living: The cost for bone marrow treatment in India is much more affordable as opposed to undergoing treatment in the US, Thailand or any European country. Even the stay, consultation, facilities and everything else will also cost much lower when compared to the western counterparts.
Options: India has a wide range of hospitals to choose from; that offer care and treatment according to one's budget. With the advancement in the field of medicine, the hospitals also try their best to bring down the cost to make treatment cost-effective and available to all strata of society. There is also the promising possibility of choosing doctors whose expertise and experience will help you heal better. The cost differs greatly based on the chosen surgeon.
| Sr.No. | Countries | Average Cost (USD) | Average Cost (INR) |
| --- | --- | --- | --- |
| 1 | India | $15,000 – $90,000 | ₹10,69,095 – ₹64,14,569 |
| 2 | USA | $350,000 – $800,000 | ₹2,47,36,250 – ₹5,65,40,000 |
| 3 | United Kingdom | $233,310 – $583,275 | ₹1,64,89,184- ₹4,12,22,960 |
| 4 | Germany | $100,000 – $250,000 | ₹70,67,500 – ₹1,76,68,750 |
| 4 | United Kingdom | $49,999 – $100,000 | ₹35,33,679 – ₹70,67,500 |
Before undergoing a bone marrow transplant you must undergo a series of tests to ensure your general well-being. Once your doctor is happy with the results of the tests your doctor will insert a tube called the center catheter inside the vein of the chest. 
The stem cells and medicines are administered into your body through this central line. Besides administering medicines and stem cells, this central line is also used to collect blood from your body.  
Once the central line is placed your doctor will start chemotherapy or radiation therapy to:
Shrink the cancerous growth

Suppress the immune response, especially before an allogeneic stem cell transplant
Once the chemotherapy or the radiation therapy is done your doctor will administer the harvested stem cells. 
The harvested stem cells replace the bone marrow cells within a few weeks.
Typically it is a painless procedure and you might be awake while your doctor administers the stem cells through the central line.
It usually takes a few weeks to replace diseased bone marrow with healthy bone marrow. Once engrafted the new healthy bone marrow proliferates and begins to form healthy blood cells.
Your doctor will regularly monitor your health and several other tests to manage infection or other complications.
Soon after a bone marrow transplant, your doctor will even suggest red blood cells and platelet transfusion for you for some time, until the new bone marrow cells begin to proliferate.
Also, your doctor may ask you to visit them regularly for a few years after the treatment to manage late complications.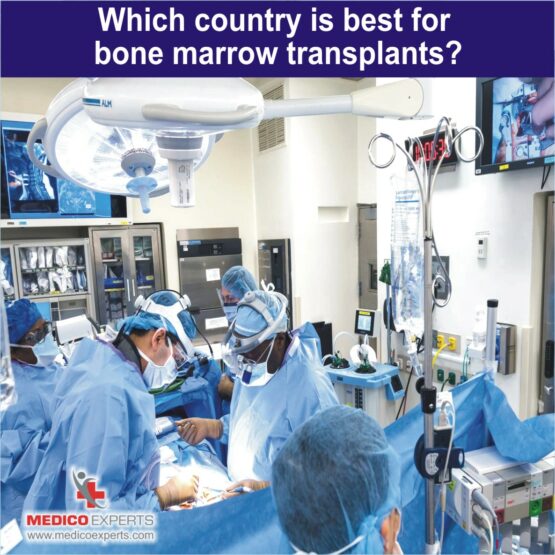 Once your doctor advised you about a bone marrow transplant the first thing that comes to your mind is where you should get this treatment done. While considering a suitable country for the treatment you must ensure various factors like:
Affordability of the procedure in that country

Survival ratio of people who underwent bone marrow transplants in the country you have chosen.

Availability of the latest treatment and world-class-healthcare facility

The cost of the stay in the country you have chosen

The success rate of bone marrow transplant in your chosen country
Other than checking for the affordability and availability of world-class treatment, you must consider the following factors too:
Connectivity ease to the country you have chosen from your country, 

Safety of the selected country.

Ease of local communication in the chosen country
While we usually consider Western countries for treatment as we are impressed by their latest advances in healthcare facilities. However, the cost of getting treated in those countries is a bit too much.
Contrary to the western nations India provides you with a viable option for treatment as Indian hospitals ensure that you get advanced treatment while charging you almost half of what it would have cost you in Western nations.
How to choose the best doctor for your bone marrow transplant in India?
Choosing the best haematologic oncologist for bone marrow transplants is very important. By choosing a good doctor you can ensure efficient treatment.
An experienced and well-trained doctor helps to replace the diseased bone marrow with healthy bone marrow. If you are unsure about selecting a doctor, you must ensure that:
The doctor is board certified

The experience and expertise of your doctor in transplanting bone marrow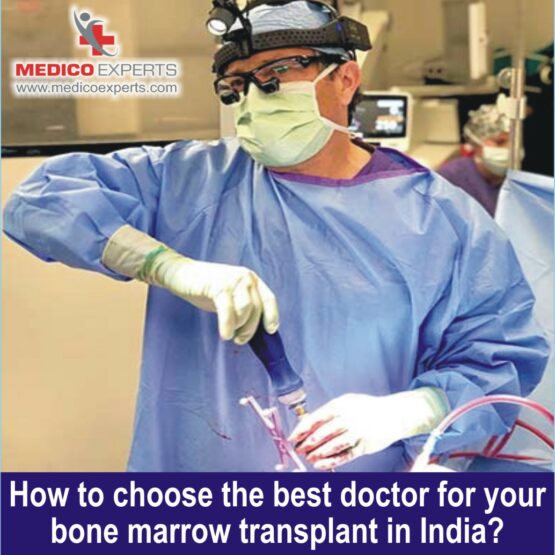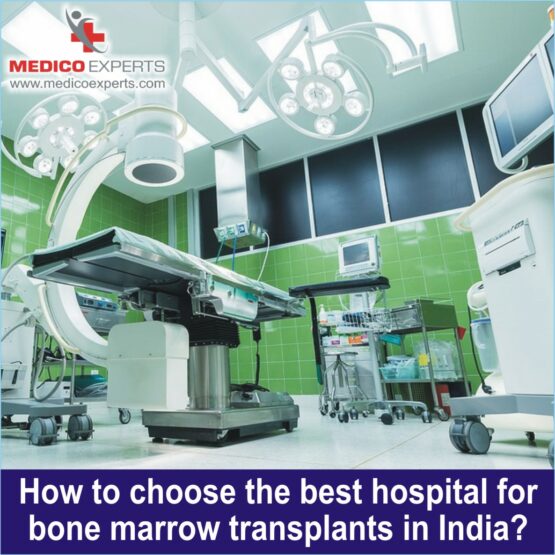 Although it is a tedious job to select a hospital for bone marrow transplant in India you must ensure that the hospital offers world-class healthcare facilities and is equipped with the latest healthcare devices for the treatment. 
Apart from choosing a hospital that offers the latest medical approach, you must also ensure that the hospital has a dedicated unit for people undergoing transplants for efficient pre and post-transplant care.
Depending on the condition of the patient, the concerned doctor may suggest to undergoing radiation therapy or chemotherapy. The cost for the same will have to be additionally added to the above-listed cost, based on the type of transplant one has to opt for.
1. The cost of one cycle of chemotherapy is anywhere between USD 500 to USD 1000 (INR 35643 to INR 71286)
2. The cost for radiation therapy is approximately USD 3500- USD 5500 (INR 249503 to INR 392075)
3. The mentioned cost is exclusive of any post-operative complications, over-stay charges, inter-disciplinary conditions, or use of any special drugs, consumables or blood components.
When planning your bone marrow transplant in India, we recommend you to be prepared and aware of every minuscule aspect, so as to avoid any surprises. We, at MedicoExperts, are open and ready to answer any query you may have.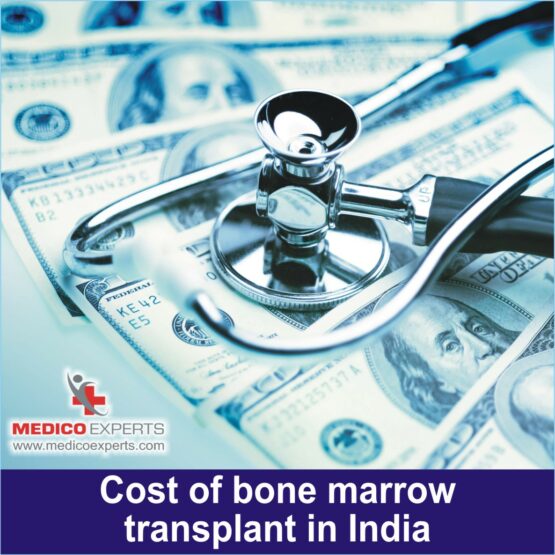 The cost of bone marrow transplant in India according to the type of transplant is as follows:
| Sr.No. | Procedures | Evaluation Cost (USD) | Treatment Cost (USD) |
| --- | --- | --- | --- |
| 1 | Autologous Bone Marrow Transplant | 1300 – 1800 | 15000 – 24500 |
| 2 | Allogenic Bone Marrow Transplant | 1300 – 1800 | 25000 – 37500 |
| 3 | Haplo Bone Marrow Transplant | 1300 – 1800 | 36000 – 50000 |
| 4 | Unrelated Bone Marrow Transplant | 1300 – 1800 | 65000 – 90000 |
The different steps of Autologous Bone Marrow transplant in India are as follows.
The different steps of the Allogenic Bone Marrow transplant in India are as follows.
Success rate of Bone Marrow Transplant in India
The success rate of bone transplant in India differs from hospital to hospital with a collective average ranging from 60-90%. This is a result of extremely qualified and highly skilled surgeons and highly equipped, hospitals with strict patient care, cleanliness and infection control policies. The percentage of relapse noticed in cases of autologous transplant patients is comparatively low.
Frequently Asked Questions and patient concerns:
1. How do I know which bone marrow transplant is best for me?
The consulting surgeon will review your reports and decide on the best-suited option for your treatment.
We at MedicoExperts, ensure that you get nothing but the best diagnosis and treatment for your ailment. Be assured to get the best treatment advice from the chosen best surgeons in India.
2. What is the difference between bone marrow transplants and stem cell transplants?
In a stem cell transplant, the stem cells are collected from the patients' own blood and used; while in the case of a bone marrow transplant, the bone marrow is extracted from the donor and injected into the patient who has undergone high-dose therapy.
3. What are the commonly noticed side-effects of undergoing bone marrow transplant?
Besides the higher risk of infection due to a stressed immune system, the commonly noticed side effects are but are not limited to,
Nausea and vomiting
Fatigue
Low levels of platelets, which can decrease how well blood can clot
Low levels of red blood cells, which can cause anemia
Diarrhea
4. How long will I take to recover from my treatment?
Recovery after Bone Marrow Transplant is long and tiresome, both physically and emotionally for the patient and family. The initial 3 months are critical enough for the recovery of the patients.
They need complete monitoring during this span since there are high chances of complications and the risk of rejection of the transplant. The patient may complain of fatigue, weakness and is unable to concentrate for the first few weeks post-surgery, however full recuperation may take up to 1-2 years.
An estimated stay of around 2-3 months is required in India for the Bone Marrow Transplant Surgery and complete recovery, post which the patient can fly back to his/her country.
5. How soon can I resume my normal work and daily routine?
After a complex and prolonged BMT treatment in India, it is justified to be anxious and return to a daily routine to seek normalcy.
However, once you are done with the transplant, you should be diverting all your energy in regaining your strength and stamina. Staying positive will help you heal better. It will also be advisable to avoid crowded public places, as you will be prone to infection due to lowered immunity functions. Generally, it takes about 3-6 months for a patient to feel better and stable, however, this also depends on certain environmental factors like cleanliness, etc.
6. What can I expect from my bone marrow treatment in India?
BMT procedure is a treatment associated with a number of risks and complexities. It is, therefore, crucial to know if the treatment is suitable for you. BMT procedure is recommended in cases when;
All other treatment options undergone by the patients have failed
There is a higher risk of relapse or the disease to return without a transplant.
The benefits of Bone Marrow Transplant prevail over the risks and complications associated with the surgery
The patient is in otherwise good condition and has matched stem cells available from either a sibling or parents and family member.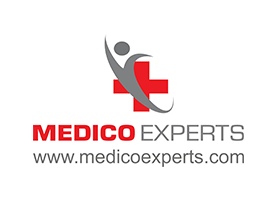 MedicoExperts is a Global virtual hospital which is established to offer quality healthcare services at affordable pricing without compromising the success rates of the treatment.
MedicoExperts is having a network of highly experienced super specialist doctors and well equipped hospitals across the globe and offering second opinion through online video consultation and surgical interventions through its empanelled super specialist doctors at its network hospitals in 17 countries from 3 continents.
By the virtue of its approach and model, MedicoExperts is successfully achieve to deliver
Latest and most advanced treatments with success rates of international benchmarks.
Multiple cost options depending upon the hospital facilities, with the same doctor.
Treatment option in multiple cities/state/countries.
Trust and peace of mind.
Most suitable for patients who are looking for:-
Planned Surgeries and treatment from most experienced doctors and at multiple cost options as per hospital facilities with best possible outcomes.
Second Opinion from expert doctors.
Complex cases involving multi specialities
International patients looking for treatment from Indian doctors