Esophageal cancer treatment in India with cutting-edge technologies with highest success rates.
Smith, a 48-year-old is a businessman from Nairobi Kenya. He is a father of three kids and husband of a beautiful wife. He is running his Logistics business having a presence in 5 cities in Kenya. 
Five years ago, Smith had started experiencing difficulty in swallowing food, indigestion, and heartburns. After ignoring a month, Smith visited a nearby doctor. The doctor examined Smith's abdomen but found nothing abnormal. He prescribed a few medications. The medications helped him give some relief but after 15-20 days, the problems started bothering him again.
He decided to meet a gastroenterologist.  The doctor suggested gastroscopy and blood tests to Smith. 
Smith underwent the gastroscopy, the doctor detected a tumor in Smith's esophagus and the doctor suspected it was a malignant tumor. The doctor recommended a CT scan to investigate further. The CT scan reflected that the tumor was present in local lymph nodes and had not spread from the esophagus into other organs.
Smith and his family was shocked to hear that. However, Smith's best friend Danny and business partner motivated the family to fight cancer and suggested he not take any risk and go for esophageal cancer treatment in India. Danny already knew MedicoExperts as he did his mother's knee replacement surgery in India. Danny gave the MedicoExperts contact details to Smith.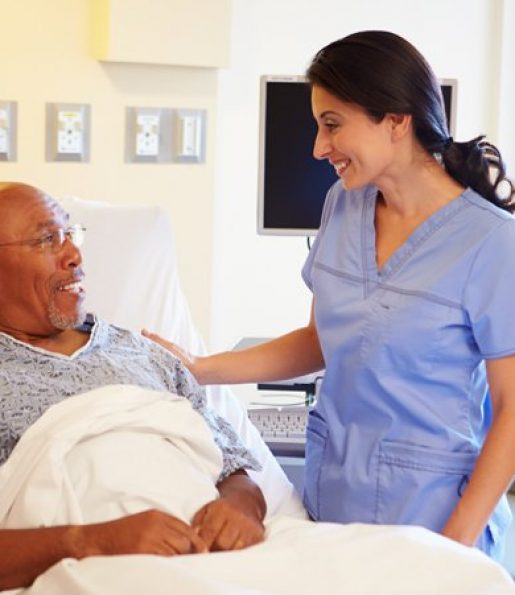 Smith got in touch with MedicoExperts and forwarded all his reports. The MedicoExperts team presented the case to the tumor board. The board recommended a tentative protocol with a combination of surgery, chemotherapy, and targeted therapy and suggested the final protocol can be arrived at after thorough evaluation, including PET Scan. The family also had a video call with the head of the board and understood the tentative protocol thoroughly.
Smith decided to come to India with his wife for the treatment. 
After 15 Days, Smith and Linda came to India for treatment, and Smith got admitted to the hospital. The evaluation was performed to check the current condition of cancer. Reports came and the examination confirmed that cancer had not spread to adjacent tissue or organs and that it had entered only a few immediately adjacent lymph cells. 
The doctor started chemotherapy and after 2 cycles, esophageal cancer surgery was performed. The cancer was removed along with 52 lymph nodes. 
After the successful surgery, Smith is slowly getting back into the day-to-day routine slowly and a revaluation test was performed, the reports verified the successful removal of cancer. 
Smith and Linda was very happy with the outcome and thanked the doctor and MedicoExperts.
Before starting the discussions on different treatments option, let's first understand what esophageal cancer is?
The esophagus is a muscular tube that is responsible for moving food from the throat to the stomach and Esophageal Cancer occurs when a malignant tumor forms in the lining of the esophagus.
Cancer starts when cells in the inner lining of the esophagus grow out of control. A tumor can occur anywhere along the length of the esophagus, including the place where the esophagus and stomach meet.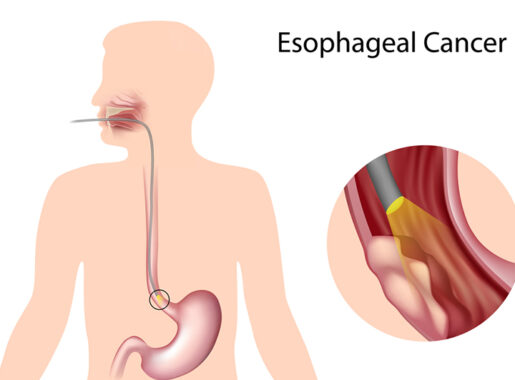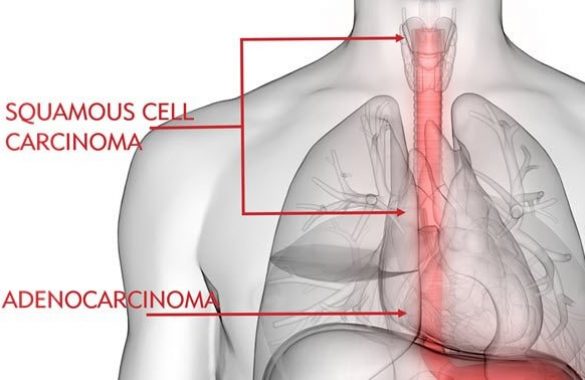 What are the different types of Esophageal Cancer?
Esophageal cancer types are classified according to the type of cells that are involved. Your treatment options are influenced by the type of esophageal cancer you have.
Squamous Cell Carcinoma
:
This cancer begins in the thin cells that make up the lining of the esophagus. This occurs most often in the upper and middle portions of the esophagus. This is the most common esophageal cancer worldwide.
Adenocarcinoma
:
These cancers start in the glandular cells responsible for producing fluid such as mucus. It is most common in the lower part of the esophagus, near the stomach.
Other rare types:
Small cell carcinoma, sarcoma, lymphoma, melanoma, and choriocarcinoma are all rare types of esophageal cancer.
There are different stages for different types of Esophageal cancer. Doctors use a tool called as TNM system to describe the stage of cancer:
Tumor (T) – It indicates how intensely the primary tumor has grown into the wall of the esophagus and the surrounding tissue.
Node(N) – It shows if the tumor has spread to lymph nodes, where and how many?
Metastasis (M) – It shows if cancer has spread to other parts of the body, where and how much?
These results are combined to determine the stage of esophageal cancer for everyone. There are 5 stages and doctors often describe the type of cancer by its grade. The grade describes how much cancer cells look like healthy cells when viewed under the microscope. If esophageal cancer looks like healthy tissue and contains different cell grouping, then it is called "differentiated". If the esophageal cancer cells look different from healthy tissue, it is called "poorly differentiated".
Stages of Squamous Cell Carcinoma
The stages of squamous cell carcinoma may be divided based on whether the tumor is in the upper, middle, or lower part of the esophagus, as well as the grade of the cancer cells.
Stages of Adenocarcinoma
Doctors use both T, N, M classifications and the grade for these stages of cancers:
During the early stages of Esophageal Cancer, you will not experience any symptoms but as cancer progresses, you may experience:
Indigestion

Heartburn

Difficulty swallowing

Weight loss

Vomiting

Food coming back through the esophagus

Chest pain

Fatigue

Chronic cough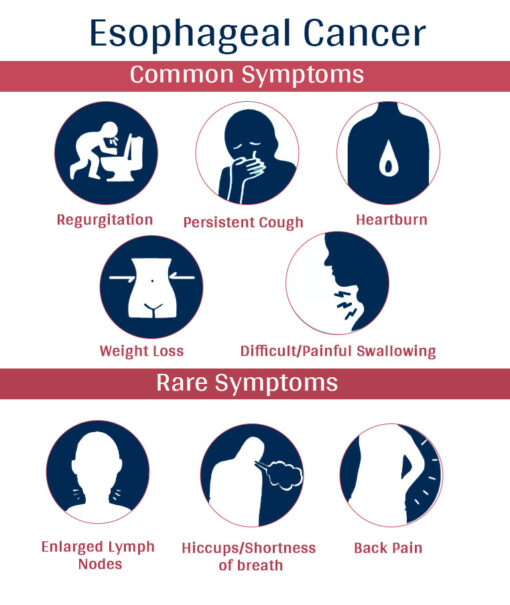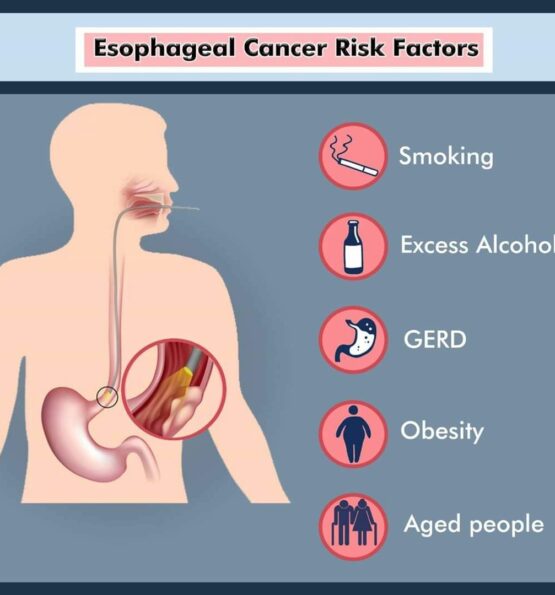 Doctors consider that irritation in the esophageal cells develop cancer and some habits that can cause irritation include:
Alcohol consumption

Smoking

Being overweight

Not having enough fruits and vegetables

Having achalasia, where the muscle at the bottom of the esophagus does not relax properly
There are many ways to treat Esophageal Cancer that include:
Treatment is dependent upon the stage of cancer.
India, US, UK, and Singapore provide effective treatment for esophageal cancer. However, the treatment cost varies from country to country.
The cost of treatment of esophageal cancer is nearly half.
India is known for providing high-quality care at a low cost to esophageal cancer patients from other countries.
Doctors in India's healthcare system are well-trained. India has specialized and well-trained operative and post-operative care teams. These groups are capable of resolving complex cases for a reasonable price.
So, if you're looking for the best combination of outcome and affordability, India might be the better choice.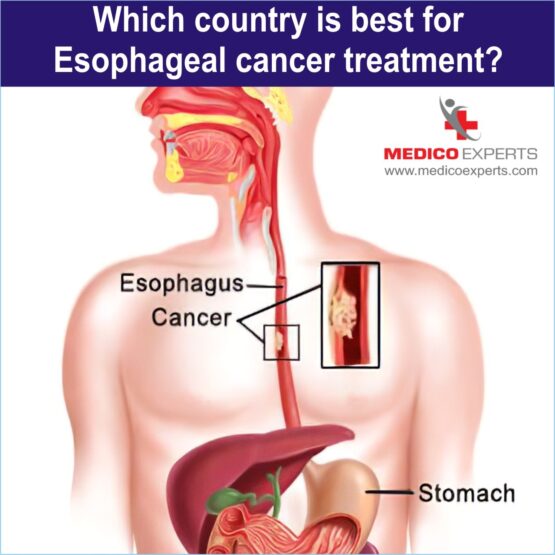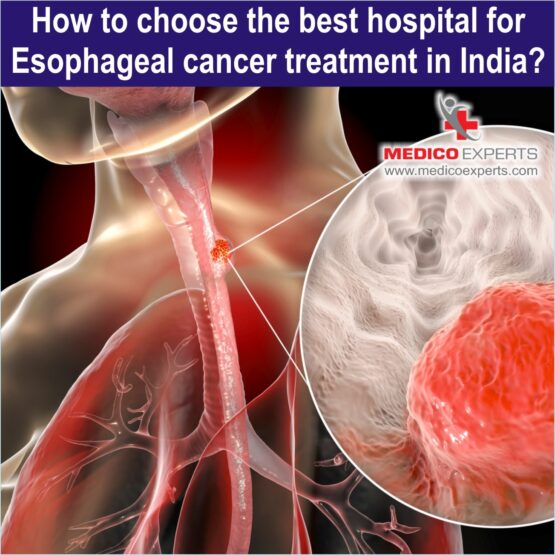 How to choose the best hospital for Esophageal cancer treatment in India?
Choose a hospital that has cutting-edge technology and a multidisciplinary oncology team that includes medical, surgical, and radio oncologists, as well as well-trained paramedical staff.
The success and survival rates of the oncology team and the hospital should also be considered.
You might want to look at the MedicoExperts Panel, which was created using the criteria listed above.
For a successful outcome and higher success and survival rates, you should rely on a team of doctors rather than just one. The Tumour Board is another name for this multidisciplinary approach.
The tumor board method is a novel way to improve esophageal cancer patient survival rates. To achieve the best possible treatment outcome, highly skilled medical, surgical, and radiation oncologists collaborate closely on the case.
MedicoExperts helps patients all over the world get the best possible treatment and survival rates by using this tumor board approach to treating them.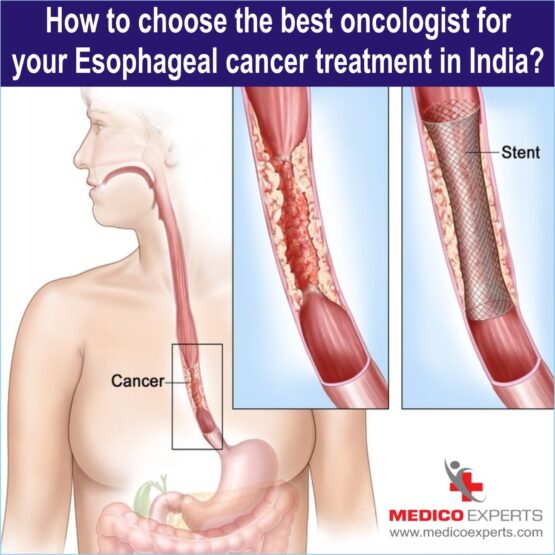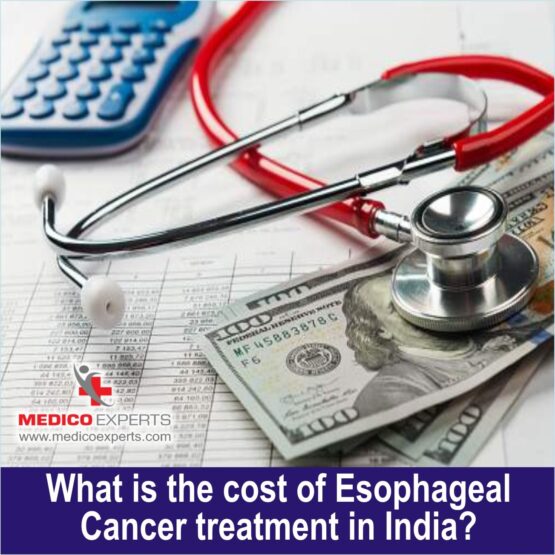 The Cost of esophageal cancer treatment in India can range anywhere between $3000-$5000 (223243 – 372071 INR) depending upon the quality of treatment and hospitals.
Frequently Asked Questions and patient concerns:
Is Esophageal Cancer curable?
Esophageal cancer is aggressive cancer and in most cases is a treatable disease though cure rates are low. It depends on several factors like the stage of cancer and the overall health of the patient. People with early-stage disease have a better chance of survival.
Is Esophageal cancer hereditary?
It happens in a person's lifetime and is not passed on to their children. Hence it is not inherited but acquired during a person's life.
Do you feel ill with esophageal cancer?
It might be hard to spot at an early stage but once cancer progresses, it affects your digestion such as having a problem swallowing.
At what age does esophageal cancer occur?
It is most often diagnosed at the age of 50 and above and is more common in men than women.
How fast does esophageal cancer progress?
It grows slowly for many years and once the symptoms develop can progress rapidly.
Can acid reflux cause esophageal cancer?
Adenocarcinoma of the esophagus is slightly more common in people with chronic acid reflux, gastroesophageal reflux disease (GERD), Barrett's esophagus, and chronic heartburn.
What foods should esophageal cancer patients avoid?
Patients should avoid the food which is difficult to eat
Raw fruit and vegetables.
Tough meat.
Soft, doughy bread.
How do you get esophageal cancer?
The uncontrolled multiplication of cells lining the food pipe can result in esophageal cancer. This is frequently linked to irritation caused by tobacco, alcohol, and stomach contents refluxing back into the esophagus.
What does Barrett's esophagus have to do with esophageal cancer?
Barrett's esophagus is a condition in which the cells in the esophageal lining begin to change. Barrett's esophagus is more common in people who have acid reflux disease (GERD), but it can also happen to people who don't have GERD. This condition has been linked to an increased risk of developing esophageal adenocarcinoma.
Although only a small percentage of people with Barrett's esophagus develop esophageal cancer, it's critical that they keep an eye on the condition in case they are.
What are some of the potential side effects of esophageal cancer treatment?
Depending on the type of treatment given, side effects may vary from patient to patient. Fatigue, nausea and vomiting, diarrhea, hair loss, pain while swallowing, digestive problems, headaches, bleeding, and other side effects are all possible.
Depending on the severity of their condition and treatment plan, some people may need to eat smaller, more frequent meals after treatment. Retraining their swallowing skills may also require occupational or speech therapy.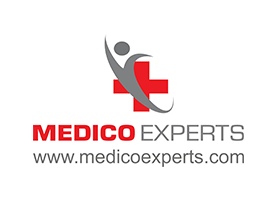 MedicoExperts is a Global virtual hospital which is established to offer quality healthcare services at affordable pricing without compromising the success rates of the treatment.
MedicoExperts is having a network of highly experienced super specialist doctors and well equipped hospitals across the globe and offering second opinion through online video consultation and surgical interventions through its empanelled super specialist doctors at its network hospitals in 17 countries from 3 continents.
By the virtue of its approach and model, MedicoExperts is successfully achieve to deliver
Latest and most advanced treatments with success rates of international benchmarks.
Multiple cost options depending upon the hospital facilities, with the same doctor.
Treatment option in multiple cities/state/countries.
Trust and peace of mind.
Most suitable for patients who are looking for:-
Planned Surgeries and treatment from most experienced doctors and at multiple cost options as per hospital facilities with best possible outcomes.
Second Opinion from expert doctors.
Complex cases involving multi specialities
International patients looking for treatment from Indian doctors