Increase your chances of conceiving with IUI treatment in India
Are you concerned about being unable to conceive even after trying multiple times?
Failing to conceive a child is a heartbreaking feeling for couples who are looking forward to expanding their family.  The situation becomes more distressing when the couple fail to conceive a child despite trying to conceive for more than a year.
The recurrent attempts to conceive with no success is a matter of concern. If you have tried for more than a year ,and yet have not been able to conceive, it is not normal, and you must consult your doctor for advice. 
Although it might look like a serious problem to you now, there is nothing to worry about. In today's medical world, there are solutions to almost every problem. 
But you must first understand the probable causes behind your inability to conceive. 
There could be multiple reasons why you are not able to conceive. The reasons could be with either of you or sometimes the reasons remain unknown. 
Once the doctor confirms that you fail to conceive because of your partner's sperm quality they may suggest IUI or Intrauterine insemination for you. Sometimes Even when the doctors fail to ascertain the reason for your inability to conceive they may advise artificial insemination procedures such as IUI will increase your chances of getting conceived.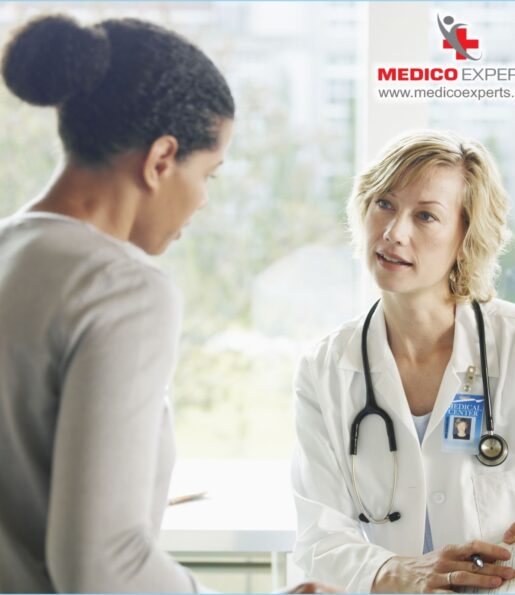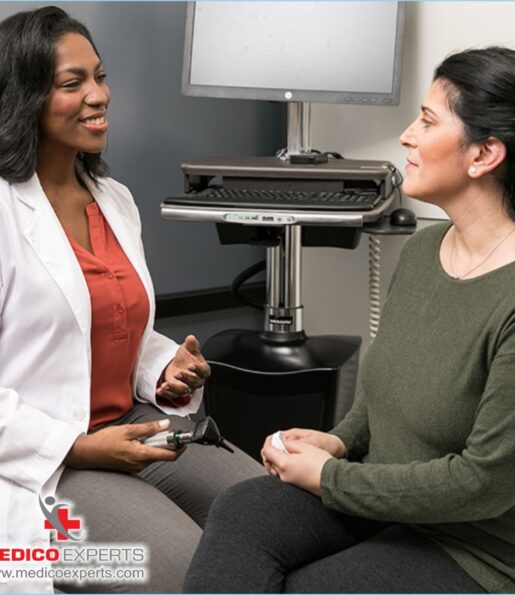 IUI (artificial insemination procedures) has changed the life of many couples, and their homes are now full of squeals of kids.
This procedure has helped couples with unexplained infertility, males with low sperm count, males with sperm mobility issues, etc.  You too can start your family after a proper diagnosis and appropriate treatment like IUI as Sunita did. 
Mrs. Sunita Singh from Mumbai, India got married at the age of 32. Her husband Ajay was 36 years old at the time of marriage. 
The couple were enjoying their married life but somewhere deep inside they had a desire to expand their family. But despite trying for more than a year to conceive a child the couple felt heartbroken. Out of concern the young family decided to consult a gynecologist. 
The gynecologist recommended the diagnostic tests for both Ajay and Sunita. The test reports of both Sunita and Ajay were normal. Based on the test reports the gynecologist categorized the case as unexplained infertility.
The diagnosis left the couple dejected. However, the gynecologist explained to them that unexplained infertility is common and they can become parents by undergoing an artificial fertilization process like IUI.
Ajay and Sunita started searching for the best place for IUI that has the best success rates. While searching, Ajay visited the MedicoExperts website and dropped the inquiry. 
The MedicoExperts patient care department got in touch with Ajay, and Ajay explained his issue and forwarded all the reports to the patient care manager. After receiving the reports, online video consultation is arranged with one of the prominent experts of IUI. 
During the consultation, The doctor explained the IUI procedure in detail and the success rates. The doctor also explained the pros and cons of IUI treatment, and the prominent one was – IUI is the least invasive method of assisting reproduction.
After understanding all the aspects of the treatment, Ajay and Sunita decided to go for the IUI procedure. The treatment started with Sunita's controlled ovulation. The doctor inseminated the processed sperms of Ajay in Sunita's uterus.
After a few weeks, the couple visited the hospital as advised. The doctor performed a pregnancy test for Sunita which came positive. 
Elated by the pregnancy report the couple thanked the doctor and MedicoExperts.
After eight months Sunita gave birth to a beautiful daughter without facing any hiccoughs during her pregnancy.
Like Sunita if you are unable to conceive consult with your gynecologist and explore IUI. 
But before that let us understand more about this procedure.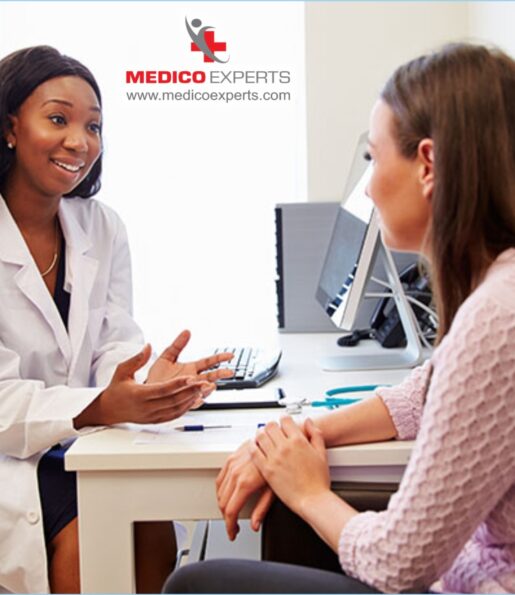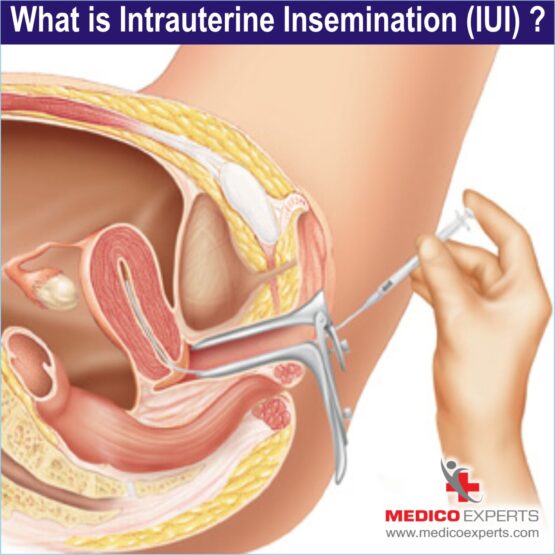 What is Intrauterine Insemination (IUI)?
Intrauterine Insemination (IUI) is a fertility treatment where processed semen is directly transferred into a woman's uterine cavity through the cervix around ovulation. 
Whereas in natural conception, the sperm has to travel from the vagina through the cervix into a uterine cavity and reach the fallopian tube to fertilize the egg. 
However, in IUI, a semen sample taken from the male partner is processed in the laboratory to make it concentrated with the motile sperm and then injected directly into the uterus, which puts them closer to the egg. 
This entire process increases the likely chances of pregnancy in couples who have been facing problems conceiving due to low sperm count, poor sperm motility, ejaculation problems, or the female partner suffering from endometriosis or ovulatory dysfunction.
What diagnostic tests are done for IUI?
For Men:
Semen analysis

Scrotal and transrectal sonography 

Blood test to check hormone abnormality

Testicular biopsy

Post-ejaculation urine analysis

Antisperm antibody testing
For Women:
Ovulation test

Ovarian reserve test (for women over 35)

 Hysterosalpingogram(HSG) test

Ultrasound of the uterus

Blood test to check any hormonal abnormality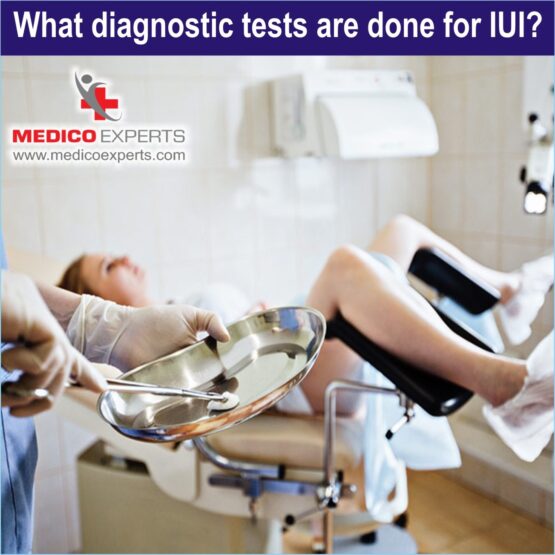 IUI procedure step by step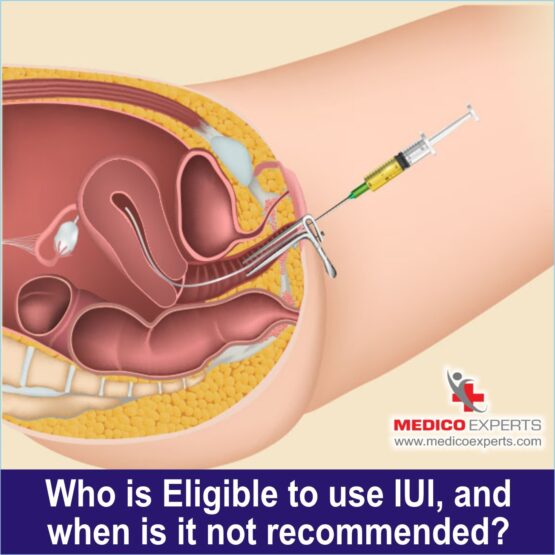 Who is Eligible to use IUI, and when is it not recommended?
IUI is usually a non-invasive and less-expensive treatment option for fertility compared to more invasive options like IVF and ICSI. 
It is not indicated for all couples facing infertility issues. It is most commonly used if a female or male is suffering from one of the following conditions.
Unexplained infertility

Low sperm count

Diminished sperm motility

Issues with ejaculation

Erectile dysfunction

Mild endometriosis

Problems with the cervix or cervical mucus (a fluid produced by and released from the cervix)

Single fertile women who wish to conceive

A couple who wants to avoid passing on a genetic defect from a male partner to a child
IUI isn't recommended for:
Women who have experienced moderate to severe endometriosis

Women who have had both fallopian tubes removed or blocked

Women who have experienced recurrent pelvic infections 

Women with severe fallopian tube disease

Men who are unable to produce sperm (unless the couple wishes to use donor sperm)
What are the advantages of the IUI procedure?
Some of the advantages of the IUI procedure are: 
It is less invasive

When compared to IVF and ICSI, it is less expensive.

The procedure is not physically and mentally exhausting.

The procedure only takes 15 to 20 minutes, and you will be instructed to stay in the recovery room for 20 minutes before leaving.

Anesthesia is not required for this procedure. It doesn't hurt.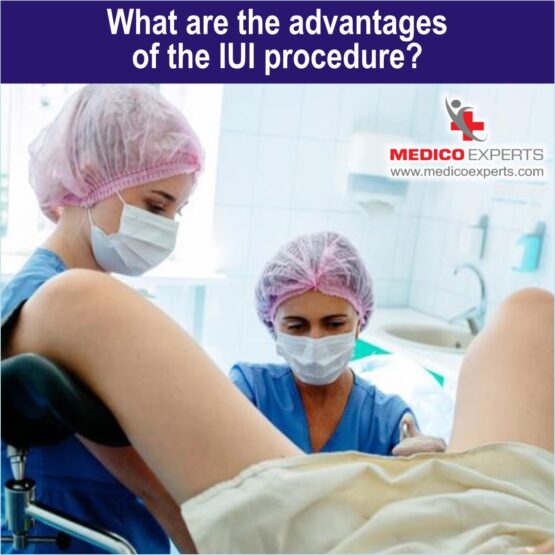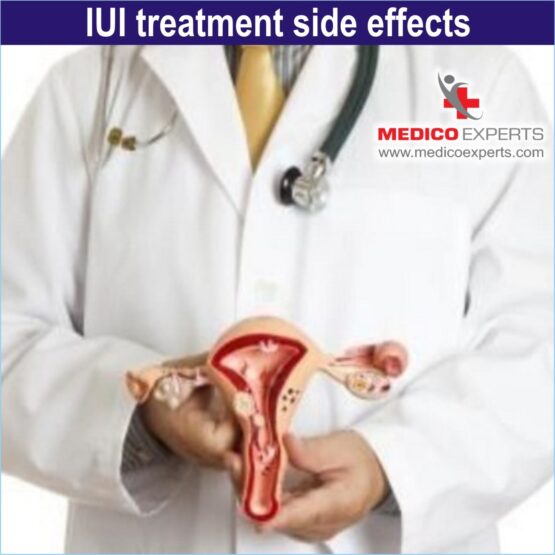 IUI treatment side effects
Generally, the procedure causes no side effects however a few people may experience: 
Mood swings

Depression

Nausea 

Headaches

Rash or swelling near the injection site

A sudden feeling of feverish heat

Pelvic discomfort
How to choose a country for the best IUI treatment?
Intrauterine insemination procedure requires the expertise of well-trained doctors and the availability of world-class healthcare facilities.
If you are finding it challenging to decide on a country where you could have your IUI procedure.
Below are tips that can help you select the best country for undergoing the procedure:
First and foremost, select a country that has advanced healthcare facilities

If you are on a tight budget, then choose a country that offers the best healthcare facilities at an affordable cost.

Choosing a country with frequent flights from your home country is essential for better connectivity.

By selecting a country with well-developed local transportation facilities, you ease your local commute while in that country.
India is one of the most affordable places for Infertility treatment across the globe. 
Modern technology, State of the art hospitals, the most coveted gynecologist and fertility specialists, excellent infrastructure at par with international standards, no language barrier, and seamless travel are some of the zeniths that magnetize individuals worldwide to get their IUI procedure in India.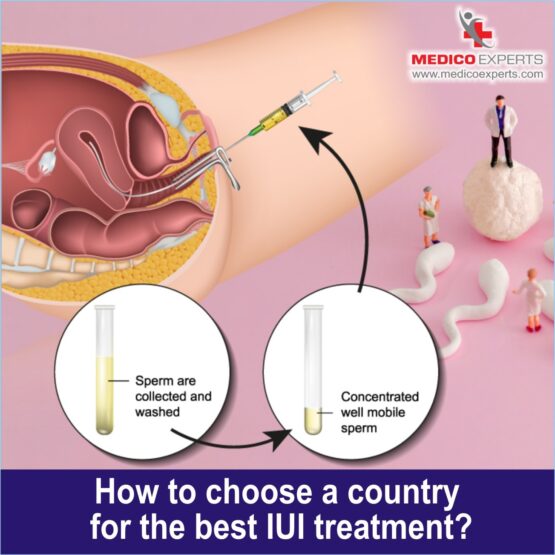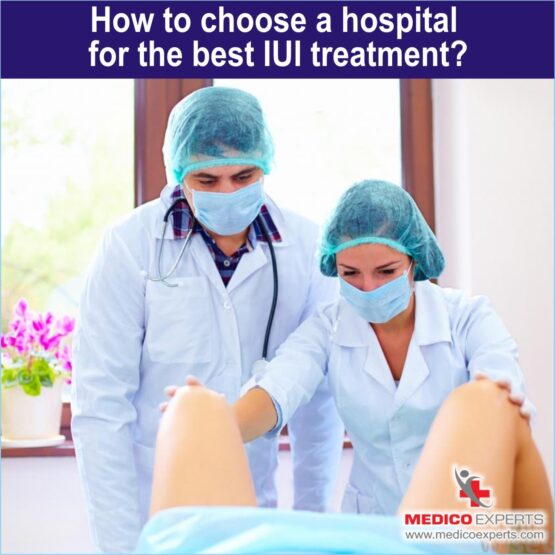 How to choose a hospital for the best IUI treatment?
The hospital you select has a significant impact on the procedure's success rate and your overall treatment experience, so choose carefully when planning an IUI procedure in India.
By selecting a facility that is NABH and JCI accredited, you reduce your risk of developing any complications or infections following the procedure.
Additionally, when selecting a hospital for your IUI procedure, please ensure the facility has modern medical equipment and competent medical staff trained to handle any post-procedure complications.
How to choose a doctor for the best IUI treatment in India?
Choosing a qualified doctor for your IUI procedure is essential because the procedure will be more likely to be successful with their expertise.
Additionally, when choosing a doctor, make sure that he or she has had success performing the IUI procedures in the past.
Also, pick a doctor with whom you are comfortable discussing your concerns and doubts about the procedure.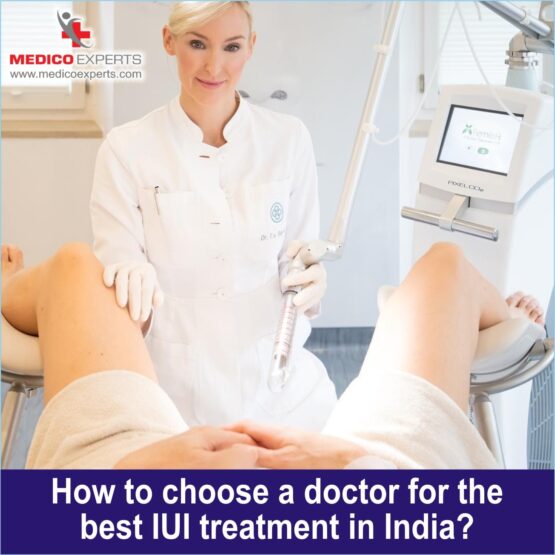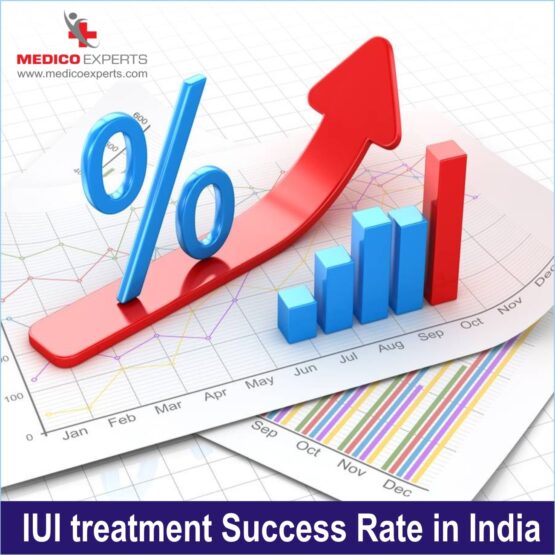 IUI treatment success rate in India
The average cycle-to-cycle pregnancy rate among couples who used insemination combined with fertility medications was between 8 and 17%.
Therefore, those who went through multiple cycles had a higher chance of getting pregnant, and those who used fertility drugs always had a higher chance.
IUI has a remarkable success rate of almost 80% in suitable patients within 3 to 6 cycles.
How much does IUI Cost in India?
The average IUI treatment cost in India ranges between 1.5 lac to 2 lac (1800 to 2500 USD). The cost may vary depending upon the city and hospital.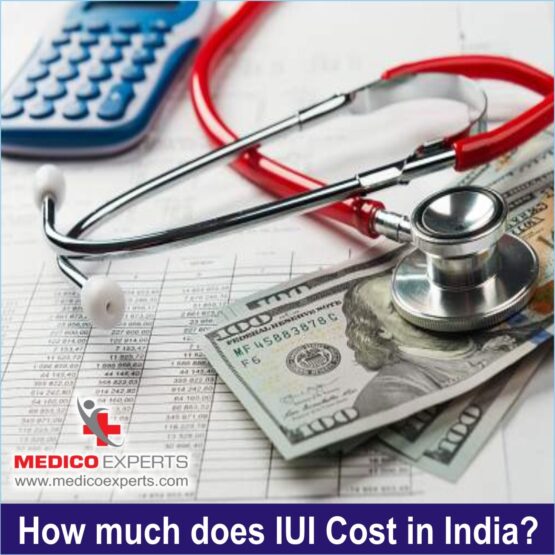 Frequently Asked Questions and patient concerns:
1. Is IUI treatment right for me?
If certain conditions are met, intrauterine insemination (IUI) is a successful treatment for many couples. 
For instance, the procedure is typically not advised for women who have blocked fallopian tubes because the sperm injection may never reach the egg in these circumstances. 
Additionally, older women, women with insufficient egg reserves, and women with severe endometriosis may not experience success with IUI. 
IVF might be preferred over IUI in these kinds of complicated cases.
Please visit the IVF treatment page for more information.
2. Who can benefit from IUI Treatment?
IUI is typically the first line of treatment in cases where medication and timed sexual activity are ineffective. 
It is advised for patients with mild to severe sperm count and/or motility declines or mild endometriosis. 
IUI can be combined with ovulation induction for females who do not ovulate frequently. IUI may also be advised for partners who lack a specific reason for their infertility (unexplained infertility).
3. When is it ideal to get an IUI treatment done?
An egg is only viable 24 hours after it is released. Before or after ovulation, the optimal time for IUI is 6 hours. If the IUI is to be timed according to the hCG dose, it is to be given 24 to 48 hours after the dosage of the injection. Usually, when two IUIs are scheduled, they are spaced at least 12 hours apart, ranging from 24 to 48 hours.
4. How many days should a man abstain before IUI?
This varies from person to person, but to maintain high motility and morphology, The doctor prescribes 2 to 4 days after the last ejaculation. 
5. What should you expect during an IUI procedure?
IUI is a painless treatment for nearly all females, and it feels the same as when you have a pap smear test done. 
As the cervix is partially exposed due to ovulation, no pain is caused by the catheter that is inserted to transfer the sperm. 
Later on, some women may experience some cramping, but it is primarily due to ovulation.
6. How long does sperm live?
Sperms live for up to 48 hours. They gradually start losing their potency after 24 hours.
7. Do I have to lie down after IUI?
After the sperm transfer, you could be asked to lie down for 15-30 minutes. As the semen just moves forward and the cervix shuts, people can walk and head back home immediately after that.
8. Is there a possibility that the sperm can fall out of the uterus?
This is a very common question posed by many couples, not only for IUI but also for regular intercourse. 
And the answer is NO, that the sperm only travels forward after insemination. You may feel damp, but that is mainly due to the small volume of semen coming out of the cervix.
9. Is there any bleeding after IUI?
No, bleeding is not typical, but either due to the method or ovulation, there is a possibility you could see a few drops.
10. What are the chances of twins or triplets with IUI?
Yes, 10% of those women who get pregnant will have multiple pregnancies.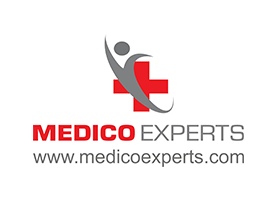 MedicoExperts is a Global virtual hospital which is established to offer quality healthcare services at affordable pricing without compromising the success rates of the treatment.
MedicoExperts is having a network of highly experienced super specialist doctors and well equipped hospitals across the globe and offering second opinion through online video consultation and surgical interventions through its empanelled super specialist doctors at its network hospitals in 17 countries from 3 continents.
By the virtue of its approach and model, MedicoExperts is successfully achieve to deliver
Latest and most advanced treatments with success rates of international benchmarks.
Multiple cost options depending upon the hospital facilities, with the same doctor.
Treatment option in multiple cities/state/countries.
Trust and peace of mind.
Most suitable for patients who are looking for:-
Planned Surgeries and treatment from most experienced doctors and at multiple cost options as per hospital facilities with best possible outcomes.
Second Opinion from expert doctors.
Complex cases involving multi specialities
International patients looking for treatment from Indian doctors