Get Pain free life with advanced knee replacement surgery in India
Are you also worried about total knee replacement surgery? 
The technologies and methodologies of knee replacement have changed drastically in the last decade. The problems due to alignment and thereafter associated problems are no more exist with newer procedure techniques such as computer-guided knee replacement and robotic-arm assisted knee replacement.
Moreover, minimally invasive surgeries are also possible where the recovery time is a matter of a couple of days.
These techniques remove any possibility of even minor alignment issues and can give you peace of mind, relief from ongoing pains and discomforts. 
With the help latest techniques and implants, you can also plan to live a pain-free lifestyle. You can walk freely, you can once again plan to fulfill your hobbies like cycling and even jogging. 
Let me introduce you to Radhika, a 49-year-old woman from Mumbai, India. She works as a branch manager in a private bank. Radhika's job is more of a sitting job and doesn't require much activity.
She became overweight with time. She started experiencing knee pain 15 years ago. Radhika was told that she would eventually need a knee replacement.
Radhika avoided it for several years because she had a bad experience of knee replacement surgery in the family. Moreover, she was also concerned about the break that she need to take for surgery.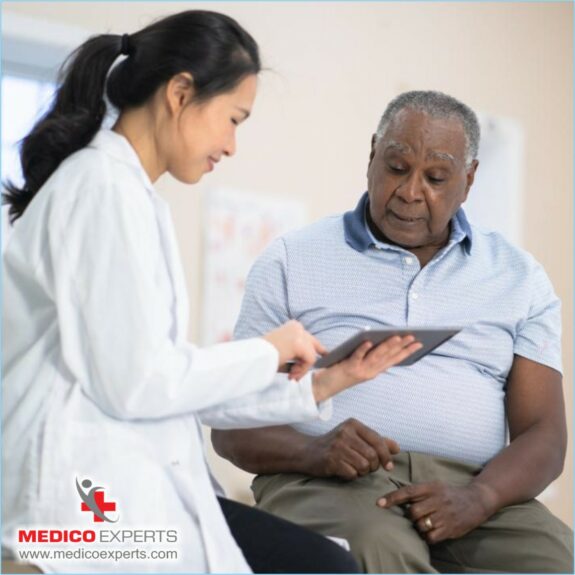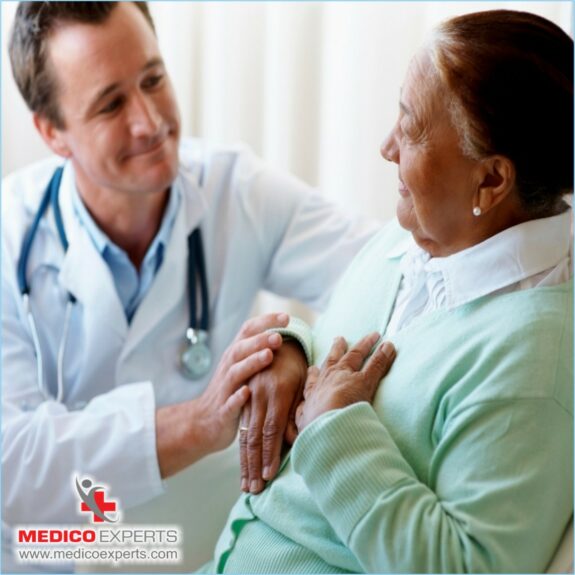 The condition of Radhika's knee was deteriorating very fast with time and she was having severe pain while walking, sitting, and standing.  
Radhika's son Raj was very much concerned about his mother's condition. Raj while researching for the best and minimally invasive knee replacement surgery with quick recovery time, visited the MedicoExperts website and learned about robotic-arm assisted knee replacement surgery which requires a small incision with fast recovery and less hospital duration. Raj left an inquiry on the website and seek further details. 
MedicoExperts concerned person got in touch with Raj. Raj forwarded all the reports of his mother and the MedicoExperts team arranged the online video consultation with its highly experienced orthopedic surgeons from the panel. The surgeon explained the advanced surgical procedure and cleared all the doubts of Radhika and Raj. 
After understanding the procedure Radhika decided to undergo the surgery.   
After 10 days Radhika was admitted to the hospital, Pre-evaluation test was done after the admission the next day surgery was scheduled. The orthopedic surgeon did the robotic knee replacement surgery.   
Radhika was totally shocked at how quickly she was able to walk with ease and without pain.
12 days after the surgery, Radhika had no pain except during some of the strenuous exercises, which is the only time she needs to take a painkiller.
This could be your story as well. Before understanding different advanced knee replacement methods first understand want knee replacement is.
What is Knee Replacement?
Knee replacement/arthroplasty is a procedure that replaces the knee joint with implants and restores normal joint function in knees that have been damaged by direct or indirect injuries, disease, or conditions such as osteoarthritis. 
The following are the different types of Knee replacement surgeries that can be performed depending on the patient's condition.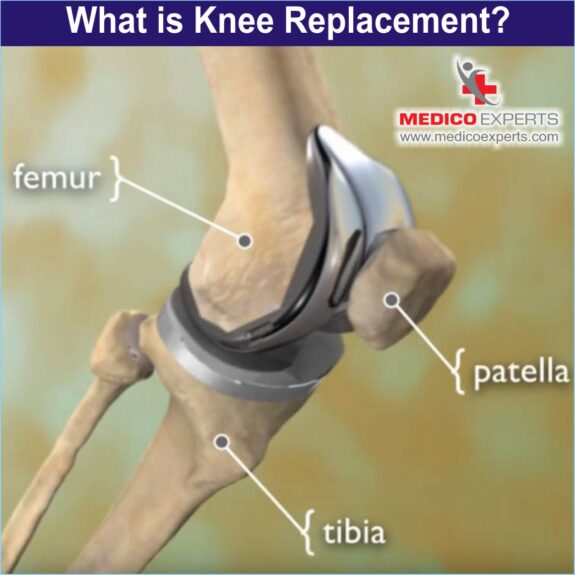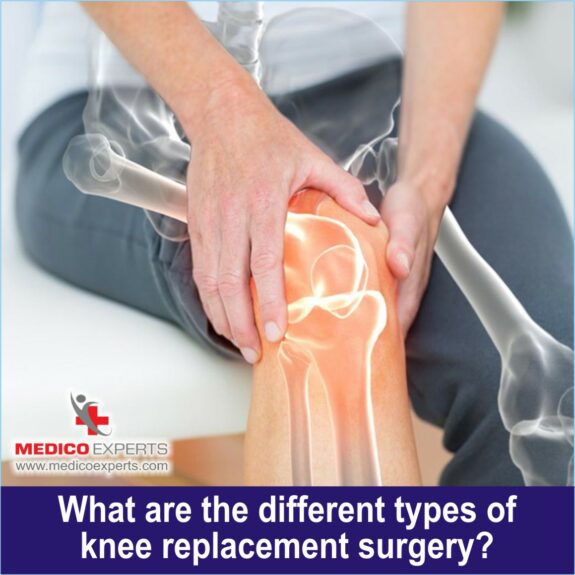 What are the different types of knee replacement surgery?
Knee replacement surgery is of several types depending upon the severity of knee damage,
1. Total Knee Replacement Surgery (TKR):
This is the most common type of knee replacement surgery, and it involves replacing the entire knee joint with a prosthetic.
2. Partial Knee Replacement Surgery (PKR):
This type of surgery only replaces the damaged portion of the knee joint, preserving healthy bone and tissue.
3. Customized Knee Replacement
Surgery
:
This type of surgery involves creating a personalized prosthetic to fit the patient's specific anatomy and provide a more natural feel.
4. Revision Knee Replacement Surgery:
This type of surgery is performed when a previous knee replacement has failed, and a new prosthetic must be implanted.
What are the advantages of knee replacement?
The advantages of Knee Replacement are the following:
Long-lasting implants that may last for up to 20 years 

Better assistance to the patient in carrying out daily activities without suffering from severe pain.

Improved quality of life of the patients

Improved knee movement and the ability to walk long distances with no or minimal pain

Resume normal daily activities within 6 months and fully recover in a year.

Relief from joint pain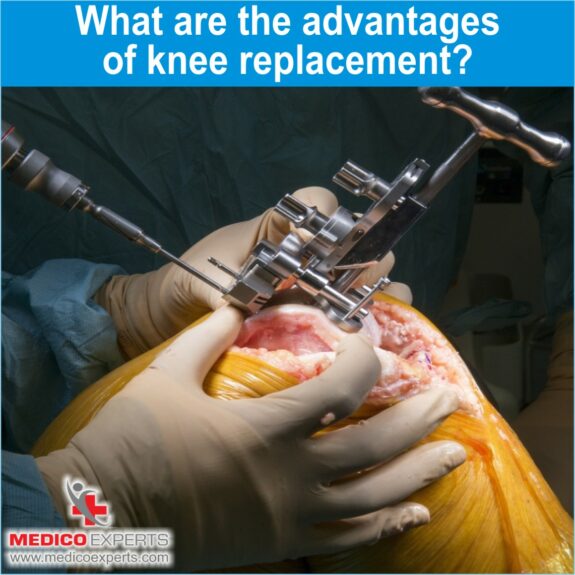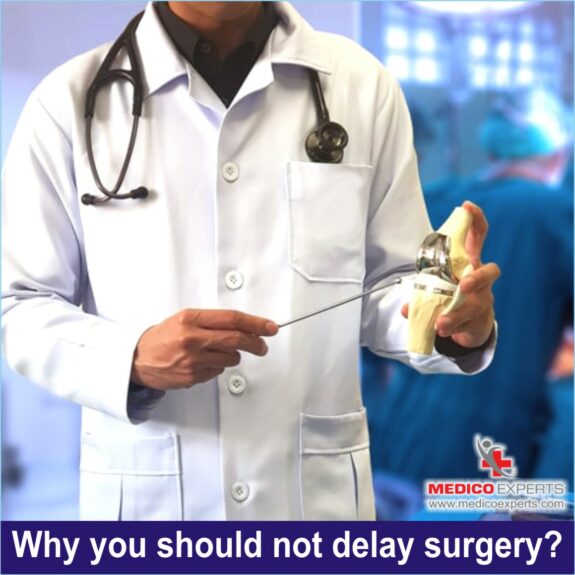 Why you should not delay surgery?
Surgery is the only solution to give you relief from your pain and constrained lifestyle. If you anyhow have to do it, why to live with the sufferings. Orthopedic surgeons typically recommend the surgery when other ways of pain management stop working for you. 
Rather than living with a constrained and painful life, you should choose the right technique which can address your concerns and priorities and get it done sooner. You will eventually like your decision when you feel the relief and liberty from your constraints.  
What are the indications of knee replacement?
Knee Replacement is only considered when there are one or more of the following conditions:
Arthritis

Knee pain or stiffness prevents you from doing things like walking, climbing stairs, or getting in and out of chairs. It may be difficult to walk more than a few blocks without experiencing significant pain, necessitating the use of a cane or walker.

Experiencing moderate or severe knee pain while resting every day.

Knee swelling and inflammation that does not improve with rest or medication

Knee deformity — a bowing in or out of the knee

Other treatments, such as anti-inflammatory medications, cortisone injections, lubricating injections, physical therapy, or other surgeries, have failed to significantly improve the condition.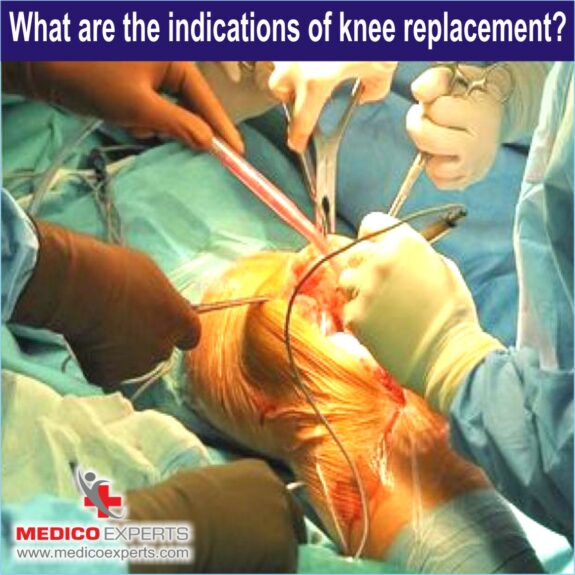 Different types of advanced knee replacement surgery techniques in India
Besides, conventional total knee replacement surgery, ortho surgeons have started performing knee replacement with the following advanced techniques which gives more precision and avoids any possibility of alignment mistakes.
Advanced Computer Assisted Surgery for Knee replacement
Computer Navigation is the most up-to-date infrared-based real-time tool for total knee replacement surgery. By providing real-time visual information about the accuracy of the bone cuts, implant positioning, ligament balancing, and final alignment of the limb during surgery, navigation helps to reduce errors.
How Does Computer Navigation Work?
The surgeon uses infrared markers and trackers to mark the patient's own bony landmarks during knee replacement surgery. The data is captured by the navigation system's infrared cameras, which produce a real-time 3D model of the patient's knee joint.
Furthermore, software algorithms are used to accurately locate landmarks that are critical for implant positioning but cannot be seen by the naked eye or approximated with conventional instruments (hip center and ankle center).
Finally, each step of the surgery is monitored in real-time, allowing for fine-tuning of errors of up to 0.5 degrees and 0.5 mm. As a result, every patient's knee is implanted with 100 percent accuracy.
Benefits of Computer Assisted Knee Replacement
The prosthesis is better balanced and positioned

Prosthesis placement and alignment are more precise

Better functioning knee

The patient is able to resume an active lifestyle sooner than expected

There is no room for human error

Maximizes longevity of the implant

Reduces the risk of blood loss and pulmonary embolism

Faster recovery and resumption of normal activities
PINLESS Computer Navigated Knee Replacement
The PINLESS Computer Navigation Technology guides the surgeon's cuts by providing real-time 3-D imaging. It also ensures that the cuts are precise. This allows the surgeon to place the implants and align the leg with precision. Technique errors that would otherwise go unnoticed can now be quickly identified and corrected.
As a result, PINLESS Computer Navigation is used during total knee replacement to ensure proper implant positioning. This is a huge help for patients undergoing knee replacement who have deformities around their knees.
Joint replacement surgery is a field that is constantly evolving in order to improve outcomes and reliability. The PINLESS Computer Navigation System for Total Knee Replacements is one of these recent developments.
This technology is precise, aids in achieving perfection ensure zero error in the placement of the implanted artificial knee, and is cost-effective.
Robotic-Arm Assisted Knee Replacement
Robotic Knee Replacement Surgery is a cutting-edge and sophisticated surgical procedure for replacing a knee joint.
This procedure makes use of robotic-arm assisted technology, which gives the orthopedic and joint replacement surgeon a personalized surgical plan based on the patient's anatomy.
Advantages of Robotic Knee Replacement
Small incision

Minimally invasive procedure creating less scarring

Less post-operative pain

Soft tissue damage is reduced compared to traditional joint replacements.

Implant wear and loosening are reduced as the risk of implant and bone rubbing is reduced.

A shorter hospital stay allows for a faster recovery.

It only necessitates a few days in the hospital and a few days of recovery.

A faster recovery means a quicker return to normal activities.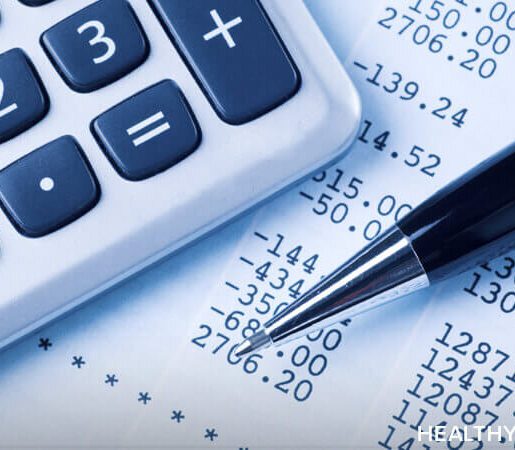 What is the knee replacement surgery cost in India?
The expenses for knee replacement surgery cost may vary according to the following factors:
Doctor's fee

Hospital charges

Medical condition

Type of implants/consumables

Type of Knee Replacement Surgery suggested (Unilateral/Bilateral)

Recommended lab tests
The knee replacement surgery cost in India according to the type of knee surgery opted for is as follows:
| Sr. No. | Procedures | Orthopaedic Evaluation Package (USD) | Treatment cost (USD) |
| --- | --- | --- | --- |
| 1 | Traditional Total Knee Replacement(Unilateral) | 600-1000 (48,000 – 80,000 INR) | 3500-5000 (2,80,000 – 4,10,000 INR) |
| 2 | Traditional Total Knee Replacement(Bilateral) | 600-1000 (48,000 – 80,000 INR) | 7000-10000 (5,70,000 – 8,20,000 INR) |
| 3 | Minimally Invasive Total Knee Replacement(Unilateral) | 600-1000 (48,000 – 80,000 INR) | 4500-5500 (3,70,000 – 4,50,000 INR) |
| 4 | Minimally Invasive Total Knee Replacement(Bilateral) | 600-1000 (48,000 – 80,000 INR) | 9000-11,000 (7,40,000 – 9,00,000 INR) |
| 5 | Computer Navigated NAV3 Total Knee Replacement(Unilateral) | 600-1000 (48,000 – 80,000 INR) | 5000-6000 (4,10,000 – 4,90,000 INR) |
| 6 | Computer Navigated NAV3 Total Knee Replacement(Bilateral) | 600-1000 (48,000 – 80,000 INR) | 10,000-12,000 (8,20,000 – 9, 80,000 INR) |
| 7 | Partial (Uni-Compartmental)Knee Replacement | 600-1000 (48,000 – 80,000 INR) | 3500-4000 (2,80,000 – 3,20,000 INR) |
What is the success rate of knee replacement in India?
Due to the relative reliability of the surgery and the effectiveness, this is a very popular surgery. Patients between the age group of 50-80 years generally opt for the surgery to relieve them from prolonged joint stiffness and restricted mobility.
However, we have seen a gradual increase in the number of young patients suffering from osteoarthritis who opt for surgery.
85% of the knee implants are functional 20 years post-surgery, while 90% of the implants last over 10 years. About 95% of our patients have experienced immediate pain relief after the surgery and improvement in mobility.
With the improvement in technology and greater availability of a variety of implants in sizes and for a specific gender, the accuracy and success rate of total knee replacement surgery in India has momentously increased.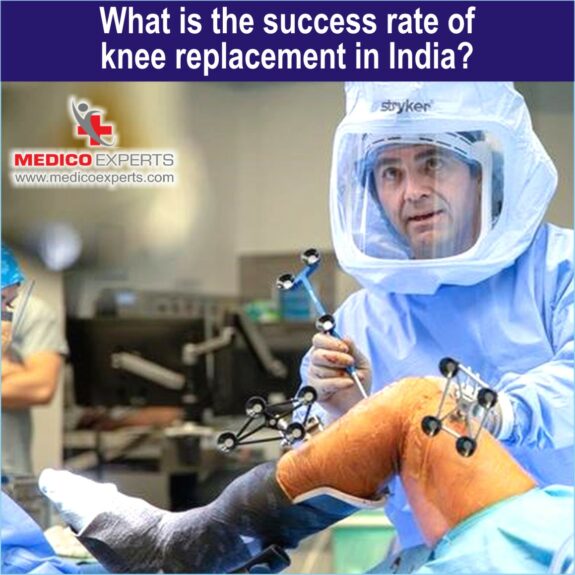 Frequently Asked Questions and patient concerns:
1. How many days would I have to stay in the hospital for my knee replacement surgery?
A hospital stay of 3 to 5 days is required to undergo knee replacement surgery in India. This stay includes surgery and post-operative rehabilitation. A physiotherapy session for about two weeks is also suggested, which the patient is called in for.
2. How long would I take to recover from my knee replacement surgery?
It takes about 6 weeks to completely recover from the surgery, during which the patient can move with the aid of crutches. It is advised to resume routine activities gradually, first with the help of a walking stick and then without any support. However, in certain cases, it could take even three months for the swelling and pain to subside.
3. How can I sleep after my surgery?
It is advised to use a pillow between your knees and to avoid sleeping on the stomach. Ensure to use a firm mattress for sleeping, and change positions whenever you feel discomfit.
4. Is there an age limit to undergo knee transplant?
There is no such age limit to undergo knee transplant but depends upon the pain and disability of the patient. Patients between the age group of 50 to 70 years can undergo a transplant, as that is when the knee cartilage begins to deteriorate with age, however, even young patients suffering from osteoarthritis can opt for the transplant.
5. Will my body reject the implant?
The implant joints are compatible with the body and composed of special metals to replace the knee. They do not react with body tissues thus ruling out the risk of rejection.
6. Can I resume physical activity after surgery?
Immediately after the surgery, it is advised to refrain from high impact activities like running, however, you will be advised to walk as much as possible. Gradually, with the advice of your surgeon, you can ease into activities like brisk walking, climbing, sitting cross-legged, and travelling or even play sports like golf.
7. How soon can I resume work after my knee replacement in India?
You can resume a desk job in a span of a month or 6 weeks, however, jobs can require prolonged walking or standing can be resumed after 2 months of the surgery.
8. Is it possible to get operated on both the knees simultaneously?
If the doctor suggests you are fit, then you can undergo bilateral knee replacement surgery in one sitting, however, in older patients with co-morbidities, it is advised to have a breather of a few days or a month. Generally, a bilateral knee replacement can be performed on a patient up to the age of 60.
9. Is Robotic Surgery best for knee replacement?
Yes, when compared to traditional knee replacement, robotic surgery has been shown to provide better results. The less trauma on the bone and tissue, the better the results, and robotic assistance allows for precision that reduces traumatic areas.
10. How painful is a total knee replacement?
After the initial knee replacement, pain is to be expected, but it should not be severe.
11. What exercises to do after knee replacement?
Supported Knee Bends while Sitting

Ankle Pumps

Bed Supported Knee Bends

Quadriceps Sets

Straight Leg Raises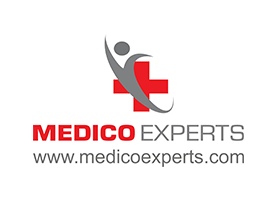 MedicoExperts is a Global virtual hospital which is established to offer quality healthcare services at affordable pricing without compromising the success rates of the treatment.
MedicoExperts is having a network of highly experienced super specialist doctors and well equipped hospitals across the globe and offering second opinion through online video consultation and surgical interventions through its empanelled super specialist doctors at its network hospitals in 17 countries from 3 continents.
By the virtue of its approach and model, MedicoExperts is successfully achieve to deliver
Latest and most advanced treatments with success rates of international benchmarks.
Multiple cost options depending upon the hospital facilities, with the same doctor.
Treatment option in multiple cities/state/countries.
Trust and peace of mind.
Most suitable for patients who are looking for:-
Planned Surgeries and treatment from most experienced doctors and at multiple cost options as per hospital facilities with best possible outcomes.
Second Opinion from expert doctors.
Complex cases involving multi specialities
International patients looking for treatment from Indian doctors