Uterine Cancer or Endometrial Cancer is the sixth most common gynecological cancer and 15th most common cancer worldwide with 380,000 women diagnosed in 2018. As these cancers are more common in women, let's start with one of the patient's stories who was diagnosed with uterine cancer and how she survived it. 
Her name is Lynn, and she was diagnosed at the age of 32 which is not too old though. She was certain that she will have any type of cancer since there were a lot of cancers in her family. Her dad and uncle had cancers two times, her first cousin had a second bout of throat cancer, three cousins had breast cancer and her aunt had uterine cancer. So, because of her family history, she was watching for something.
In 1997, she had the first pain of her life in her stomach. She thought it was appendicitis. She ignored it in the first place and after a few days, she felt nauseous, but she thought it was stress for a new job. Then she had periods and started feeling crampy. On her date, she started bleeding and her date was working in emergency response and took her to the emergency room when the bleeding didn't stop. She was supposed to see her doctor the following week and luckily, he was there at the hospital delivering a baby. He helped him to stop her bleeding.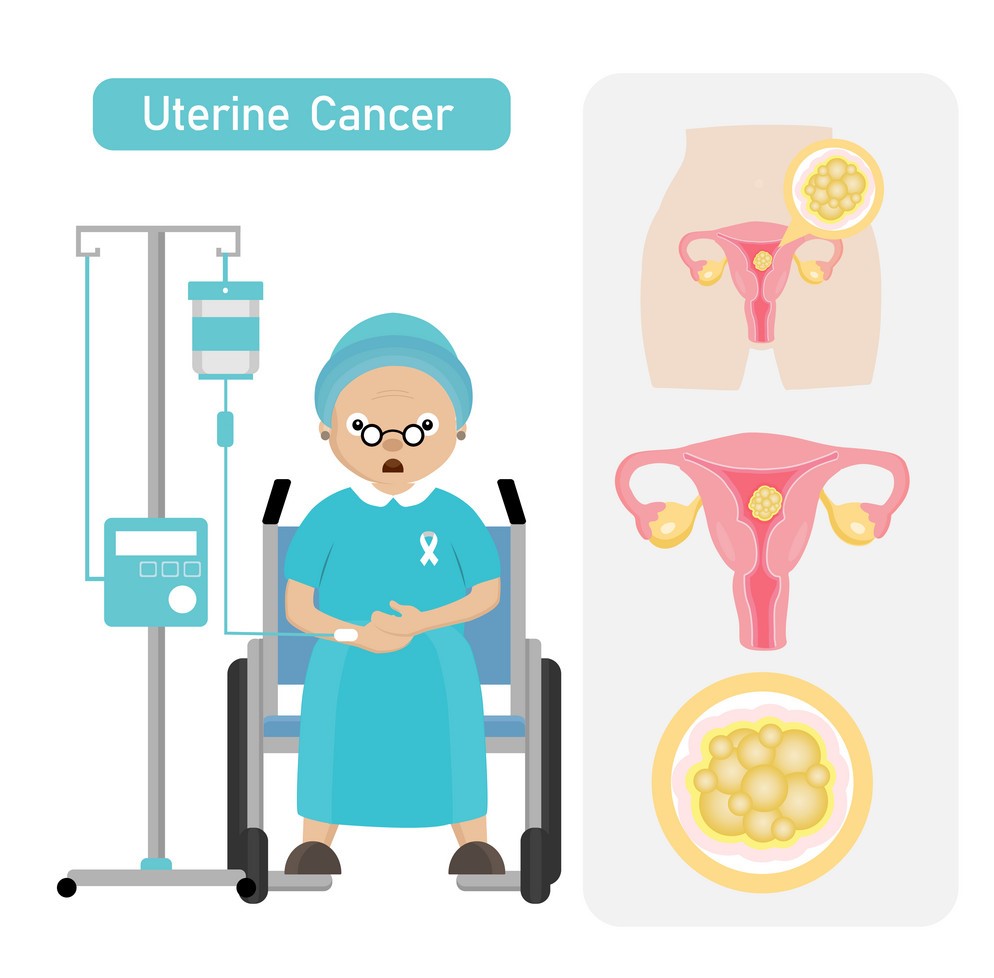 She went to see him next week and he did Curettage [C] and Dilation[D] procedure to scrape and collect tissue from inside the uterus. Dilation is widening of the cervix to let instruments into the uterus and curettage is the scraping of the walls of the uterus. It turned out to be uterine cancer, so her doctor sent her to an oncologist. The oncologist decided to operate first and later decide on whether to go for chemo or radiation. They found out that it was a rare case of uterine cancer called as clear cell sarcoma. This type of cancer arises in the muscle of the uterus and usually occurs after menopause.
For the first 30 days, she had radiation and in April 1999, she had a cold and was losing weight. She also had swelling in her lymph nodes, so she had CT. The CT showed there were two spots on her lungs which show that cancer has recurred. She had chemo and more surgeries to take out the bottom right lobe of her lungs. Since then, she has been cancer-free. From her experience, she would tell other women to listen to their bodies – it does tell you things. It's all about knowing yourself, once you know, you can fight it.
A patient herself said that it is important to know your body so that you can fight the disease, it is very important to know about uterine cancer and how to prevent yourself from it. Hence in this article, we will talk about Uterine cancer – types, symptoms, causes, diagnosis, and treatments available that will help you to make better decisions and prevent yourself from the disease. So, let's, get started.
Uterine cancer or endometrial cancer starts when cells in the inner lining of the uterus called endometrium start to grow out of control. It is often detected at an early age since it produces abnormal vaginal bleeding. According to National Cancer Institute, 3 in 100 women will be diagnosed with uterine cancer at some point in their lives. Hence early detection is the key to preventing it.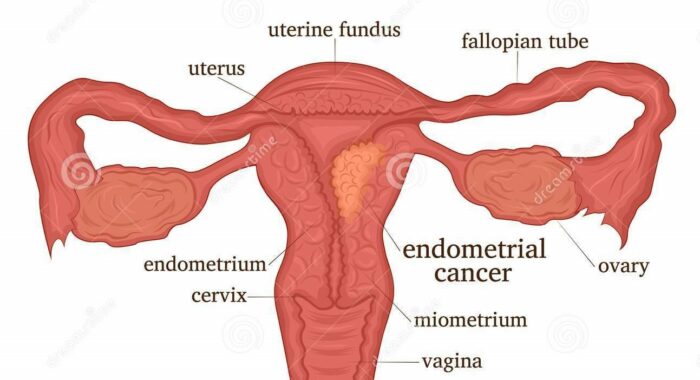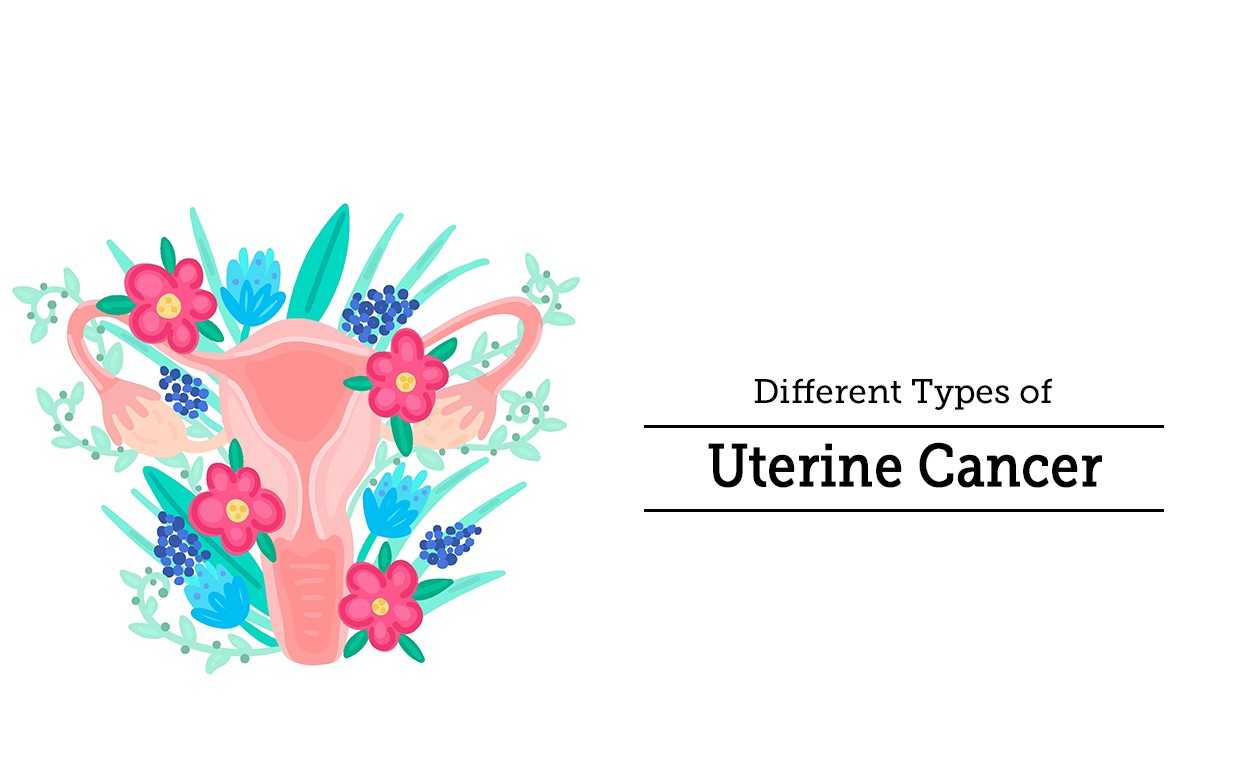 Types of Uterine Cancer
Endometrioid adenocarcinoma

– It is the most common form of uterine cancer which takes up to 80% of all uterine cancers that are formed in the endometrium glands.

Uterine papillary serous carcinoma

– It is a rare and more aggressive form of uterine that forms in the lining of the uterus and tends to return even when diagnosed early.

Uterine clear cell carcinoma

– It is seen in 5% of cases and tends to be a rare form of uterine cancer.

Uterine carcinosarcoma

– It is another rare case that makes up to 5% of cases.

Uterine sarcoma – It develops in the muscle wall of the uterus called the myometrium and it is found to be more aggressive than any other type of uterine cancer.
Abnormal vaginal bleeding or discharge

Painful urination

Enlarged uterus

Pain during intercourse

Weight loss

Bleeding between periods

Pelvic pain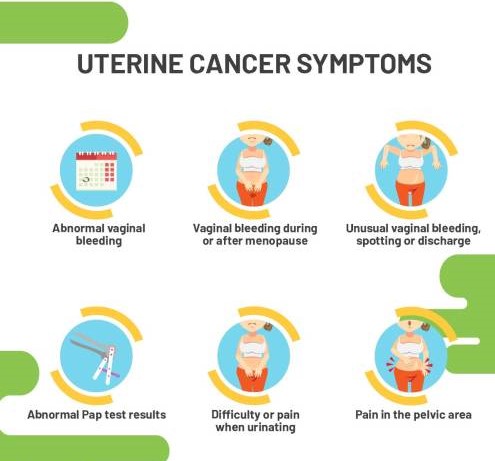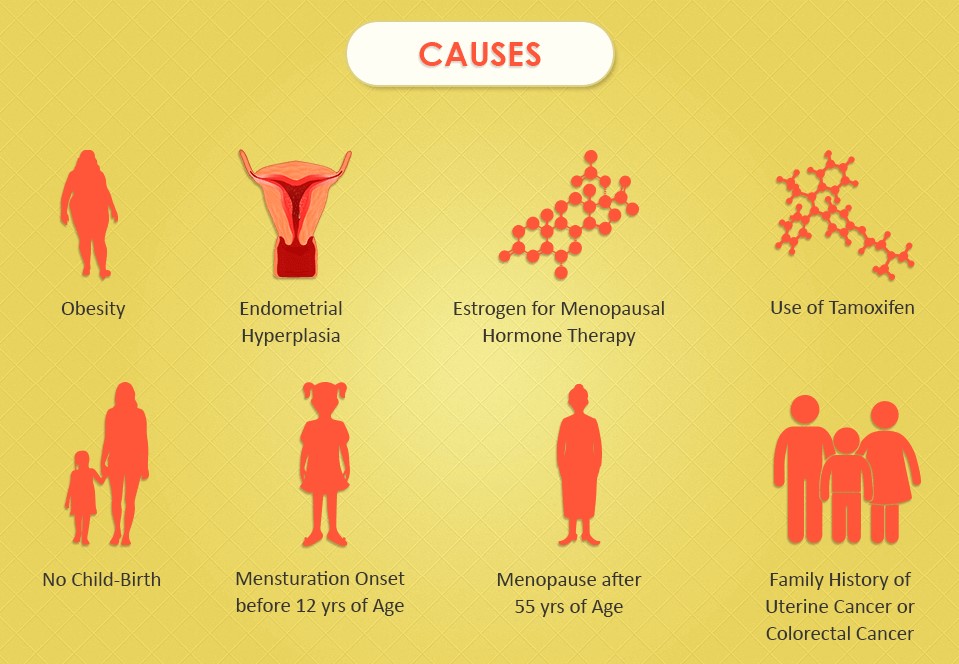 Reaching menopause after age 55

A thickened wall lining

Never having a children

Starting periods before age 12

High blood pressure or diabetes

Being overweight

Family history of uterine cancer

Previous radiation therapy in the pelvis
The cost of uterine cancer treatment in India ranges from $4000 – $6000 depending upon the quality of treatment and the hospital.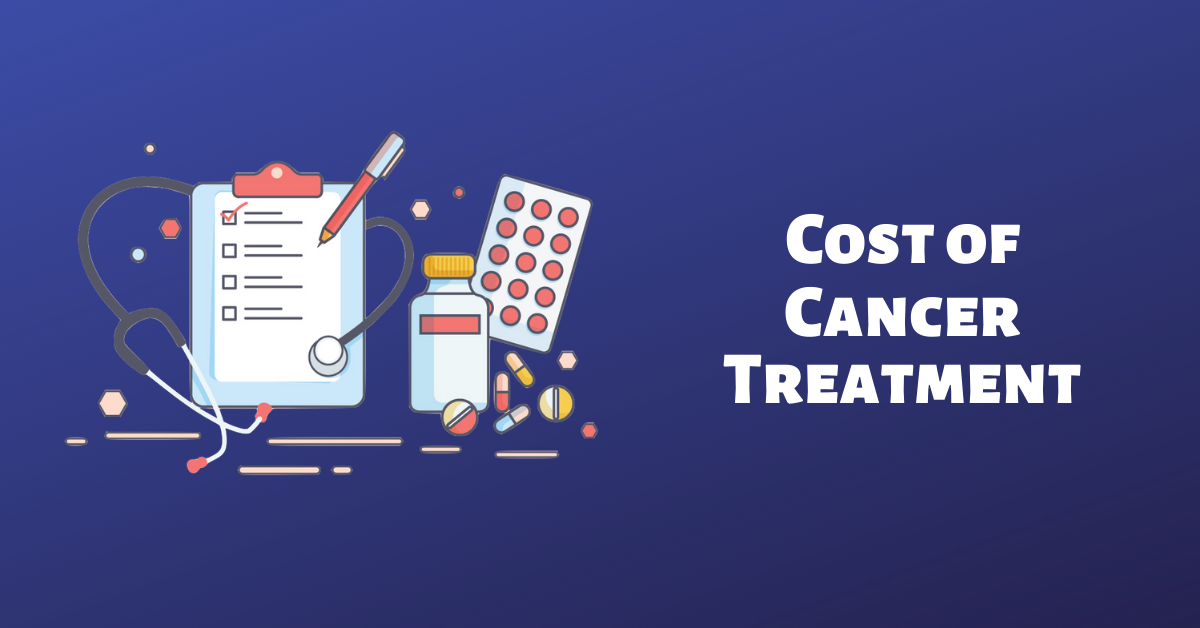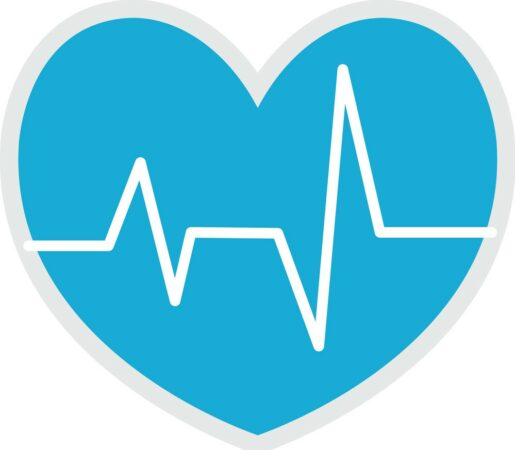 The 5-year survival rate for women with uterine cancer for white and black women is 84% and 63% respectively.
Conclusion
Uterine cancer remains the most common gynecologic cancer in the world hence improving the knowledge about the disease will allow to get the right treatment at an early stage or prevent it from getting worse.
Frequently Asked Questions and patient concerns:
Is Uterine Cancer curable?
Uterine cancer is curable since its symptoms occur in its early stage.
Does Uterine Cancer spread quickly?
Type 1 uterine cancer grows slowly which is often found inside the uterus but type 2 uterine cancer is less common but spreads rapidly to other parts of the body.
Where does Uterine Cancer spread first?
Uterine Cancer starts in the uterus and spreads to other parts of the body. In general, it spreads to the rectum or bladder, and other areas where it can spread include the vagina, ovaries, and fallopian tubes. This form of cancer grows slowly and can be detected before it has spread to other parts of the body.
How does Uterine Cancer occur?
It arises when the cell of the endometrium starts to grow rapidly due to which the lining of the uterus thickens in certain places. These linings form a mass of tissue called a tumor.
Who is most likely to get Uterine Cancer?
It occurs most often in women over 50 and the average age of diagnosis is 60.
What foods prevent Uterine Cancer?
Tomatoes

Garlic

Citrus Fruits

Carrots

Wholegrains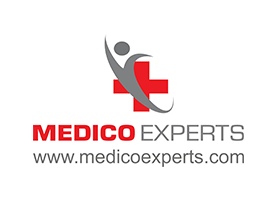 MedicoExperts is a Global virtual hospital which is established to offer quality healthcare services at affordable pricing without compromising the success rates of the treatment. MedicoExperts is having a network of highly experienced super specialist doctors and well equipped hospitals across the globe and offering second opinion through online video consultation and surgical interventions through its empanelled super specialist doctors at its network hospitals in 17 countries from 3 continents.
By the virtue of its approach and model, MedicoExperts is successfully achieve to deliver
Latest and most advanced treatments with success rates of international benchmarks.
Multiple cost options depending upon the hospital facilities, with the same doctor.
Treatment option in multiple cities/state/countries.
Trust and peace of mind.
Most suitable for patients who are looking for:-
Planned Surgeries and treatment from most experienced doctors and at multiple cost options as per hospital facilities with best possible outcomes.
Second Opinion from expert doctors.
Complex cases involving multi specialities
International patients looking for treatment from Indian doctors