Stereotactic Radiosurgery
Stereotactic Radiosurgery, an extremely precise type of radiosurgery, was invented initially for treating small, non-complex brain tumor and functional abnormalities of nervous system. Unlike its name SRS Stereotactic Radiosurgery is a non-surgical intervention which aims to deliver targeted radiation at higher doses with extreme precision. When compared to conventional radiation therapy this technique provides maximum dose delivery while minimizing the damage to the surrounding tissue in only a single or few sessions. The prime goal of SRS is to destroy the tumor so as to achieve the permanent local control.
The chief technologies that SRS - Stereotactic Radiosurgery depends on, are enlisted below:
Highly focused Gamma ray or X-ray : These are required to converge on a tumor or abnormality.

A dedicated system : To carefully position the patient and immobilize him/her during the procedure.

3D imaging and localizing technique : To determine the exact point of the targeted tumor within the body.

IGRT(Image Guided Radiation Therapy) : To localize the site of tumor with the help of medical imaging either before or during the procedure, so as to improve the accuracy and precision of the entire treatment.
Indications for SRS
Stereotactic radiosurgery is one of the significant alternatives to a conventional and open surgery. This is mainly indicated for the patients who cannot go under the knife and also diagnosed to have tumors and abnormalities that are:
Positioned in close approximation to the vital organs of the body.
Subject to movement within the body.
Difficult to reach
Thus SRS is mainly indicated for the treatment of
Several type of Brain Tumors which includes:

Primary and Metastatic
Benign and Malignant
Single and Multiple
Intracranial, Orbital and Skull Base Tumors
Residual Tumor

Arteriovenous Malformations (AVMs)
Other neurological conditions like Trigeminal Neuralgia, Tremor etc.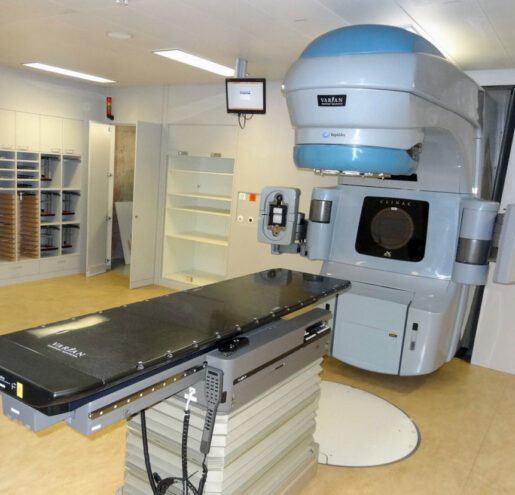 Typically, there are two main types of SRS which are classified based on the type of equipment used and the source of radiation. These are: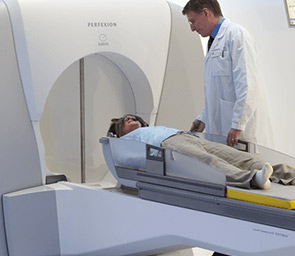 Gamma Knife Radiosurgery
Gamma knife is a treatment that uses around 201 beams of highly focused gamma rays in order to regulate the malignant, non malignant tumors, vascular and functional disorders in the brain, without harming surrounding healthy tissue. This surgery does not include scalpel or incision and from name it's not a knife. For the treatment of complex, difficult brain conditions gamma knife is a substitute to conventional brain surgery and whole brain radiation therapy. Worldwide doctors choose gamma knife for its correctness and predictable outcomes. Basis the patient's diagnosis the gamma knife surgery can also be used in addition to traditional surgery or the whole brain radiation
Linear Accelerator (LINAC)
A linear accelerator (LINAC) aims to deliver high energy x-rays or photons to adapt a tumour's shape and destroy cancer cells while sparing surrounding normal tissue. It features several built-in safety measures to ensure that it will not deliver a higher dose than prescribed one and is routinely checked by a medical physicist to ensure it is working properly.
The linear accelerator can perform radiosurgery on comparatively larger tumors either in single or multiple sessions, which is called fractionated stereotactic radiotherapy. Several manufacturers make this type of machine, which have popular brand names such as Novalis Tx™, XKnife™ and CyberKnife.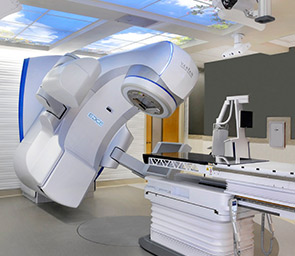 Procedure
All the SRS procedure works in an identical manner by treating the targeted area and the abnormal area. In all this procedure the radiation which is passed through the tumor are highly focused and delivers high dose radiation beams without damaging the surrounding healthy tissues.
The specialized equipment focuses many small beams of radiation on a tumor or other target. Each beam has very little effect on the tissue it passes through, but a targeted dose of radiation is delivered to the site where all the beams intersect. The high dose of radiation delivered to the affected area causes tumors to shrink and blood vessels to close off over time following treatment, robbing the tumor of its blood supply.
The surgery is done either as an open-heart surgery where in the patient is placed on a machine which is called heart lung machine or some times without using the heart machine; that is the surgery is done on beating heart during which the heart beats are usually altered but considered as normal.
During the treatment the patient is not needed to put in sleep as the treatment does not cause any kind of pain. Patient is made comfortable by making him/her lie on a treatment table and then the head frame will be fixed to the machine before beginning treatment. The SRS machine has a robotic arm which is controlled by a computer to move around the patient and once it identifies the targeted area it focuses its radiation on the area which has to be treated. The doctor operates this machine and they can see the patient's movements through cameras and can also hear them and talk with them.
Each treatment takes about 30 minutes to 2 hours. The number of sessions depends on the condition of the patient and several other factors. Normally the doctor does not advise more than five sessions. Patient gets discharged on day care basis and can resume their daily normal routine after the treatment.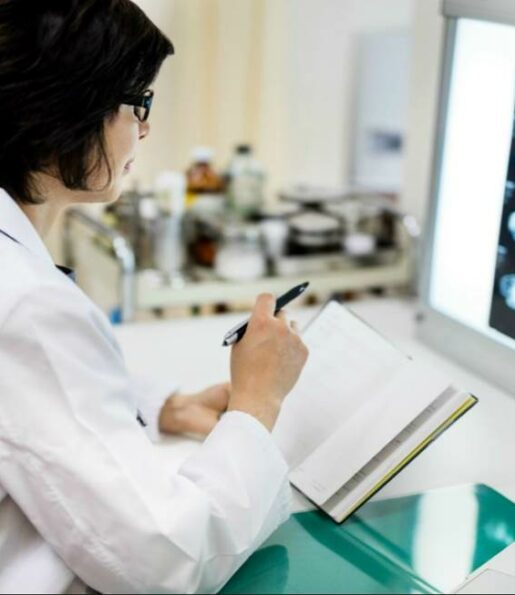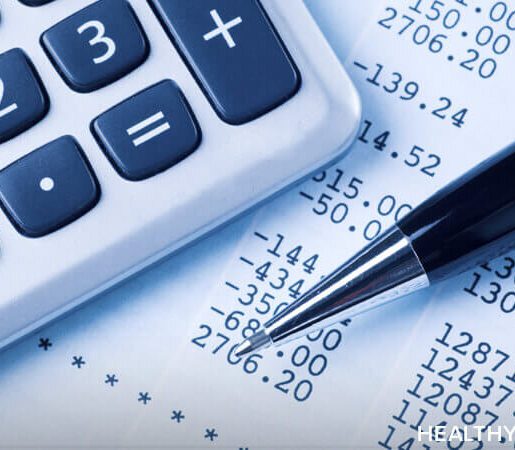 You may be a candidate for radiosurgery, if:
You have neurological condition/tumor which is surgically inaccessible.
You had already undergone tumor removal surgery but it was not successful.
If you do not wish to undergo a surgical procedure.
You need treatment for recurrence or regrowth of disease or for residual disease.
You have other health risk factors (comorbidities) that may make surgery and general anaesthesia inadvisable.
If you have undergone any treatment and you still need additional treatment.
Expected Results
The effect of the Stereotactic Radiosurgery treatment is observed gradually depending on the complaints and condition being treated. In case of benign tumors, the tumor may shrink over a period of 18 months to two years, but the main goal of treatment for benign tumors is to prevent any future tumor growth. In malignant tumors which are cancerous, the tumors may shrink more rapidly within a few months. In case of AVMs the, this treatment causes the abnormal blood vessels of brain to thicken and close off. This process may take two years or more. Whereas in trigeminal neuralgia, the radiations are targeted to the lesion so as to blocks transmission of pain signals along the trigeminal nerve. Many people experience pain relief within several weeks, but it may take several months.
Recovery Timeline
When you return home, you may feel a little tired. Be sure to rest and take it easy to give your body a chance to recover from your treatment. Most patients are able to resume everyday activities within a day or two. You may find that you have minor swelling or irritation at the site of administration or the pin sites, which should resolve on its own within a couple of days.
Some patients will require multiple sessions of SRS and can expect repeat sessions during this period. Should you require more than one session, your doctor will develop a treatment schedule appropriate for your individual condition and treatment needs. Depending upon your condition, you may require additional treatment from other specialists, such as physical therapy or an oncologist. It is important that you adhere to your follow-up visit schedule as recommended by your doctor so he or she can monitor your progress.
Treatment cost
India is one of the most affordable places for SRS treatment across the globe. The cost of SRS treatment in India is less than a one sixth of what it costs in other countries to get the same treatment done.
Top neurology hospitals is India are equipped with the most advanced technology – including Cyber-knife, Stereotactic Radiotherapy, Novalis Tx, Rapid Arc Radiation, Proton Beam Therapy, IGRT, IMRT, Linear Accelerator, Immunotherapy.
Here's a look at the approximate costs of SRS treatment in India:
| Sr.No. | Name of Procedure | Cost in India (USD) |
| --- | --- | --- |
| 1 | Cyber Knife Radiosurgery | 6800-8000 |
| 2 | Gamma Knife Radiosurgery | 5800-6500 |
| 3 | Linear Accelerator | 6500-8000 |
Frequently Asked Questions and patient concerns:
1. How is cyberknife different from other stereotactic radiosurgery systems like Gamma Knife?
A combination of a robotic arm, a linear accelerator (high-energy X-ray source), and image guidance technology is used in the CyberKnife system. The system is capable of accessing areas of the body that are unreachable by other radiosurgery devices because of the agility of the robotic arm. CyberKnife can be used anywhere in the body, although current methods of radiosurgery usually only provide brain and skull base region treatments. Without the use of an intrusive head frame, the CyberKnife is able to locate the location of the tumor within the body. It detects and compensates for the movement of patients through a specific and very detailed process during care.
2. Is CyberKnife covered by insurance?
Stereotactic radiosurgery procedures, including CyberKnife, are typically covered by insurance and most private insurers.
3. After treatment, when will my tumor or lesion disappear?
Over a period of time, the results of radiosurgery become evident. Depending on the medical condition targeted, the time period can vary from days, months or even years. Some tumors resolve more slowly than others and may or may not eventually completely vanish, while others simply stop developing and do not have any additional biological activity. Patients usually have occasional follow-up imaging tests following CyberKnife procedures, such as CT, MRI or PET studies, to monitor their progress as considered necessary by their medical team. Likewise, laboratory tests can be ordered.
4. Who can benefit from stereotactic radiosurgery?
For patients who are not good candidates for conventional open surgery, stereotactic radiosurgery is an excellent choice, including patients whose tumor or lesion is inaccessible by open surgery or situated very close to arteries, nerves and other critical head and neck tissues.
5. How many times can you receive a CyberKnife treatment?
Treatment frequency depends on the location of the tumor and the type of tumor being treated. Most cases receive cyberknife in conjecture with other procedures or as am ultimate solution.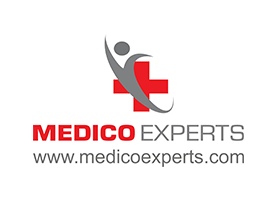 MedicoExperts is a Global virtual hospital which is established to offer quality healthcare services at affordable pricing without compromising the success rates of the treatment. MedicoExperts is having a network of highly experienced super specialist doctors and well equipped hospitals across the globe and offering second opinion through online video consultation and surgical interventions through its empanelled super specialist doctors at its network hospitals in 17 countries from 3 continents.
By the virtue of its approach and model, MedicoExperts is successfully achieve to deliver
Latest and most advanced treatments with success rates of international benchmarks.
Multiple cost options depending upon the hospital facilities, with the same doctor.
Treatment option in multiple cities/state/countries.
Trust and peace of mind.
Most suitable for patients who are looking for:-
Planned Surgeries and treatment from most experienced doctors and at multiple cost options as per hospital facilities with best possible outcomes.
Second Opinion from expert doctors.
Complex cases involving multi specialities
International patients looking for treatment from Indian doctors