Best rhinoplasty surgery in India with expertise and care
Have you been told by your friends that your nose negatively affects your facial appearance? We provide best rhinoplasty in India.
Sometimes hearing comments about the appearance of your nose can be disheartening. Also, a not so perfect nose can adversely affect you by making you conscious about how other people perceive you. 
Especially in the digital world where people are extremely conscious about their looks. But not all are born with the so-called perfect facial features. 
If you too feel that your facial features are not sharp enough you too can opt for a cosmetic surgery especially when you desire an epitome of celestial "Greek" nose. 
Your nose is one of the most prominent parts of the face that attracts a lot of attention. By reshaping and resizing your nose you bring a visible difference in your appearance. 
A perfect nose makes you feel confident while subtly giving positive vibes to people who are communicating with you. 
Apart from rendering cosmetic benefits, rhinoplasty also helps in improving breathing and sometimes rhinoplasty is useful in correcting an injury. 
While you are still in a double state of mind about undergoing a nose job Let me introduce you to Emma from Germany who recently had a nose job.
Emma, a 22-year-old model and aspiring singer felt conscious about her dorsal hump on her nose. Emma was in the showbiz industry and was always under a pressure to look attractive. While she had sharp facial features Emma knew the hump on her nose was somewhat killing her look. 
Every time Emma faced the camera for the audition she felt conscious about her nose. Emma felt that during auctions her consciousness about her nose was one of the main reasons for her to fail the auditions.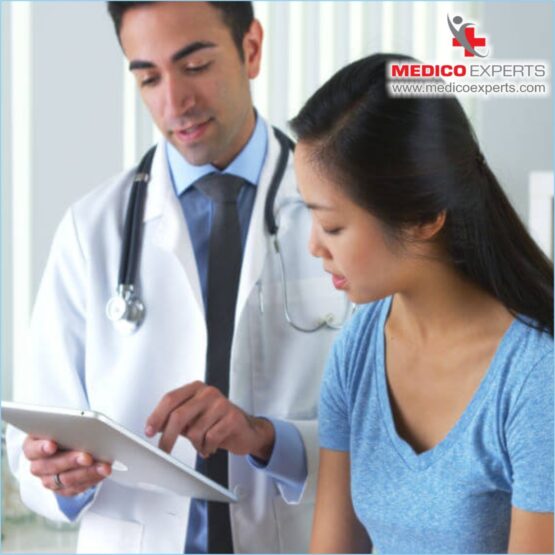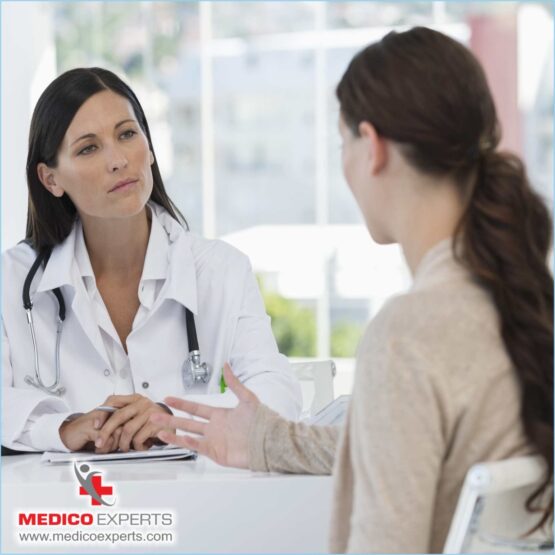 Emma knew that in showbiz you require talent, beauty and confidence to make it big. Although she was talented enough, her confidence level was a bit low because of her nose. That is when Emma decided to undergo a nose job or rhinoplasty. 
While Emma searched for a clinic for nose jobs Emma was worried about the cost for the procedure. After searching for a clinic for rhinoplasty Emma came across to MedicoExperts and left a query. 
Once our sales team received the query they contacted Ema to know more about her concern and they later arranged a video consultation for Emma with our team of board certified empaneled doctors.
After the video consultation Emma was positive about the procedure and flew to India for the surgery. Once Emma landed in India, MedicoExperts ensured smooth hospitalization for her. 
Following the admission the doctors advised a few pre-operative tests for Emma. As soon as the results of the pre-operative tests came the doctors arranged for Emma's rhinoplasty surgery.
The procedure for Emma took around two hours. After the post-operative swelling subsided Emma was excited to see the result. When Emma saw her nose she was so much in disbelief that it was her. Emma said that her nose looked so symmetrical and balanced after the nose job.
Like Emma you too can get your dream nose with rhinoplasty surgery at an affordable cost in India.
Let us first understand what is rhinoplasty surgery,
What is rhinoplasty?
Rhinoplasty or commonly known as nose job is a cosmetic approach that facilitates you to achieve a perfect nose by changing its shape and size. Apart from catering aesthetic purposes, nose job helps to correct any obstruction in the nasal passage that may affect breathing.
During a rhinoplasty surgery your doctor can either correct your bone, nose or skin around the nose -sometimes all the three structures- to correct the appearance of the nose.
Before undergoing a nose job you must be aware about the best type of rhinoplasty for you and the results you can achieve from it.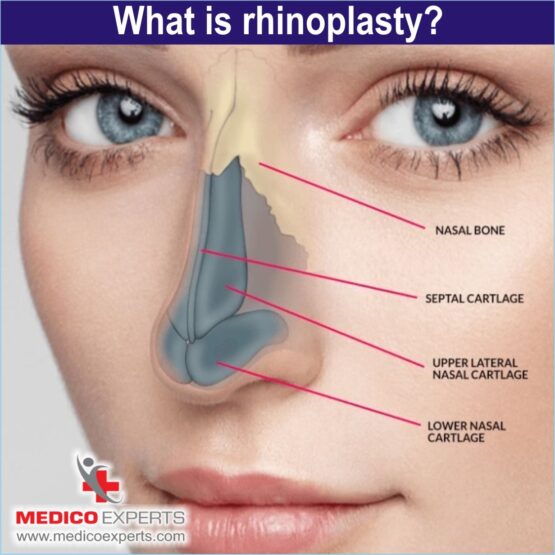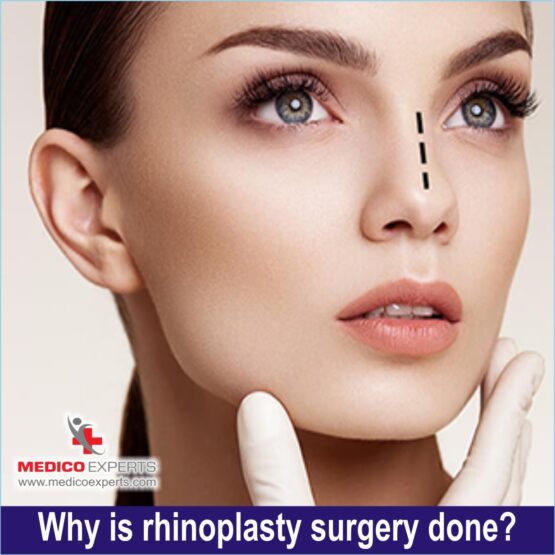 Why is rhinoplasty surgery done?
Humped and deviated nasal septum are quite common in individuals. Around 2,20,000 people undergo rhinoplasty making it the third most common cosmetic procedure.
Typically, rhinoplasty is done to correct the shape and size of the nose. Apart from correcting cosmetic lesions, rhinoplasty also helps in repairing defects from an injury, correcting a birth deformity or in improving breathing difficulties.
Who should consider rhinoplasty surgery?
Nose job surgery or rhinoplasty surgery is suitable for people looking for: 
Modification of nasal tip 

Option to alter the thick nasal skin

Treatment to manage internal nasal valve dysfunction

Ways to manage chronic sinusitis

Treatment to manage obstructive sleep apnea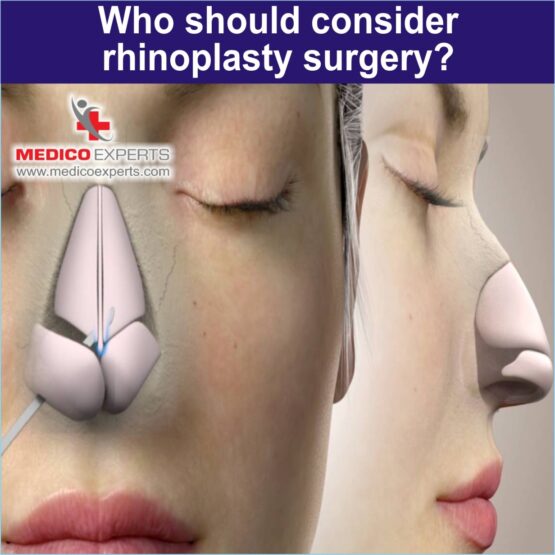 What are the different procedures used for rhinoplasty surgery?
Generally, rhinoplasty surgery is done in the following two methods: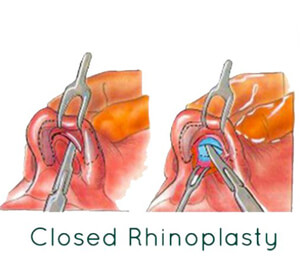 During closed rhinoplasty, your surgeon will make incisions in the inner part of the nose to reach the cartilage and bones supporting the nose. 
Once the doctor reaches the supporting structure he makes the changes in the cartilage, bones, and skin based on your requirement. 
Once your doctor feels that the procedure is completed, he or she will cover over the structure of the nose. Your doctor applies a bandage positioned outside the nose, to help it support the new shape until your nose heals.
Generally, there is no visible scar after this procedure.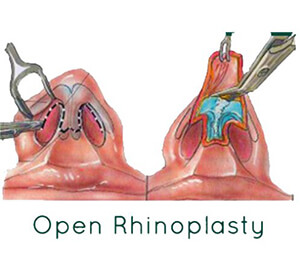 Open rhinoplasty or External Rhinoplasty is a surgical approach to enhance your nasal appearance. During an open rhinoplasty, your surgeon will make a small incision on the columella- the soft tissue that separated the nostrils-. 
External rhinoplasty helps your doctor to get easy access to the underlying cartilage and bone structure. Your doctor may suggest this technique to you if your nose is crooked or in case you wish to achieve a marked reduction in nasal tip projection (how far the tip sticks out from the face). 
Usually, there is a mild scar visible after open rhinoplasty which usually fades away within a few days after the procedure.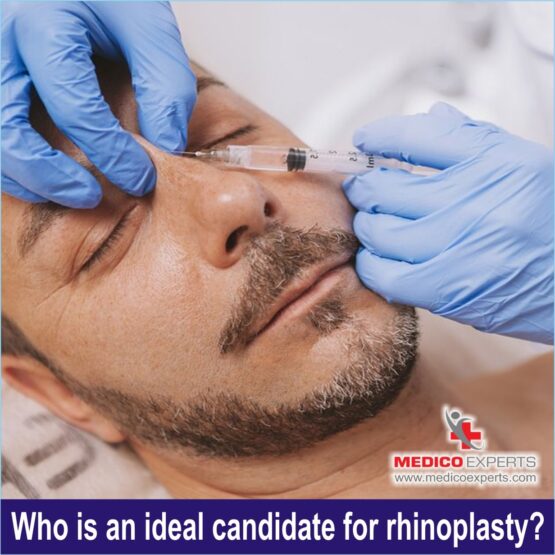 Who is an ideal candidate for rhinoplasty?
Everyone one desire a flawless and prominent nose, but while we all think of opting for rhinoplasty to correct the appearance of the nose, not everyone can undergo rhinoplasty. Individuals who are not an ideal candidate for rhinoplasty are:
People with bleeding disorder

Individuals having body dysmorphic disorder- a psychiatric condition marked by an obsession about their body where they get conscious about even a barely noticeable defect in their appearance-.

People who are drug abusers.

If you smoke then your doctor may ask you to avoid this surgery.
What should you expect after a rhinoplasty?
After undergoing a rhinoplasty, usually people worry about what they would experience after the procedure. Typically, people who underwent the procedure may experience some pain, discomfort and swelling on and around the nose.
Your doctor may advise you some pain medicine and cold-compress to manage these symptoms. After a few days the pain, swelling and discomfort may subside. 
Although the pain and swelling subsides in a few days you must understand that the nose has not healed completely. Your doctor may advise you from doing any strenuous exercise for a year as it takes almost a year for your nose to heal after the procedure.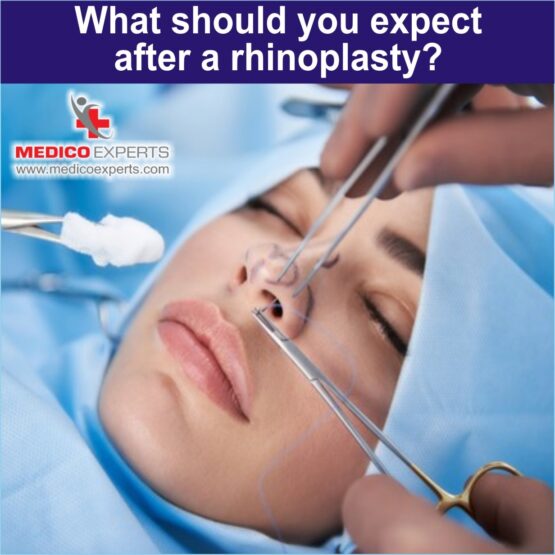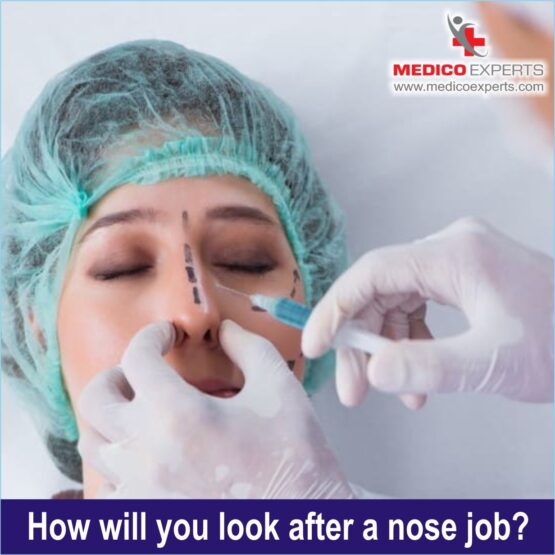 How will you look after a nose job?
Before undergoing the nose job your doctor must have discussed the look you may get after the procedure. The doctor might have sensitized you about the realistic expectations you must have about the procedure.
Although during the nose job your doctor makes small changes but these very slight changes on the nose can cause a large difference in your appearance. 
Usually, the results of the nose job are as desired when performed by an experienced board certified cosmetic surgeon.
However, in some cases, if you are not happy with the results of the surgery your doctor will advise you to wait for at least a year for the next surgery, because your nose might go through some changes during this time.
Which is the best country for your nose surgery?
Generally people consider western countries for cosmetic procedures because of the availability of  advanced cosmetic procedures. However, rhinoplasty costs in those countries are very high.
Contrary to the western nations, the rhinoplasty surgery cost in India is almost half.
Apart from rhinoplasty cost, the easy and affordable access to world-class treatment and efficient post-operative care has attracted many people globally to India for their treatment. 
The Indian healthcare system comprises well-trained doctors, operative and post-operative care teams who are capable of handling complex cases.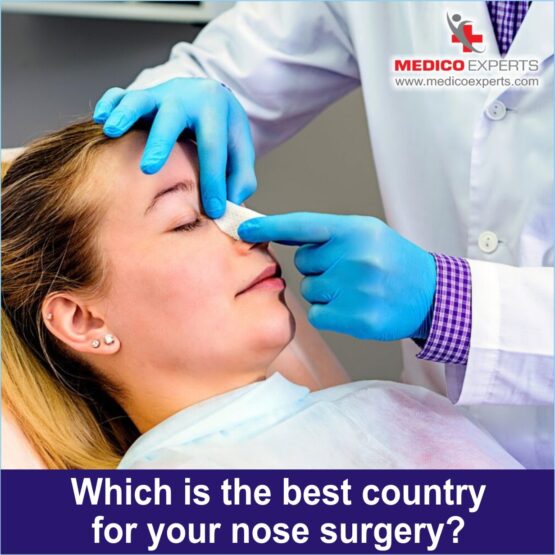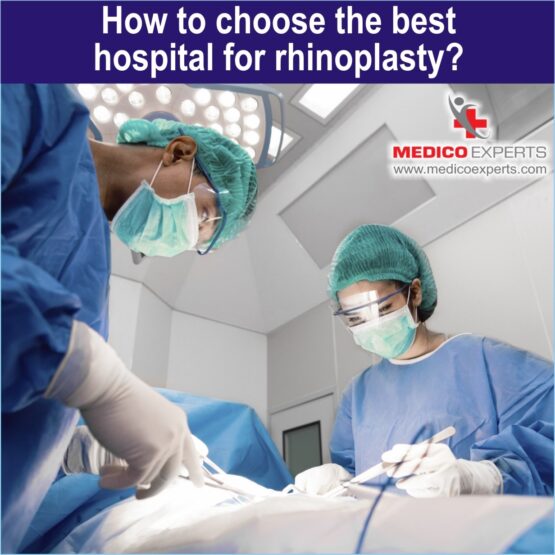 How to choose the best hospital for rhinoplasty?
A nose job or rhinoplasty is a surgical procedure performed under general anesthesia. The procedure usually lasts for 2-3 hours.
Considering the skill required for rhinoplasty, you must ensure to look for hospitals offering world-class healthcare services. 
Apart from ensuring world-class facilities, you must also confirm that the hospital has a committed unit for cosmetic procedures and post-care.
How to choose the best rhinoplasty surgeon in India?
While you desire a prominent nose to enhance your personality, it is essential to choose a good cosmetic surgeon. 
You must research  a lot before choosing a cosmetic surgeon because he is responsible to alter your appearance for the rest of your life.
Before selecting a cosmetic surgeon for your nose job, you must ensure:
Your doctor is board certified.

Confirm your doctor's experience in the specific procedure that you want

Choose a doctor whom you trust and are comfortable with

Consult a doctor whose aesthetic sense appeals to you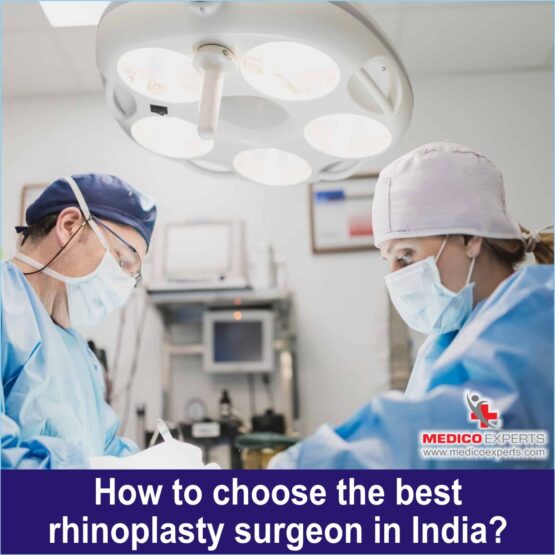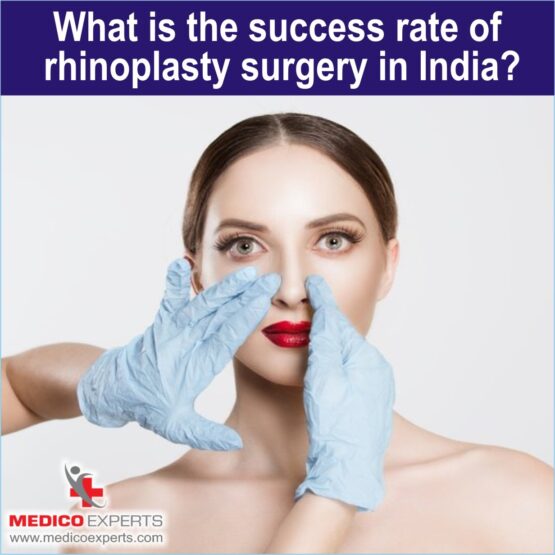 What is the success rate of rhinoplasty in India?
Rhinoplasty is the third most common type of cosmetic surgery.  Well, the popular rhinoplasty surgery can help you achieve a symmetrical and balanced nose to highlight your face. 
Rhinoplasty India is a successful and low-risk procedure that not only gives a more aesthetic appearance to the face, but it also significantly boosts one's self-image and confidence. 
With freedom from breathing difficulties it also brings about proportion to the facial features. 
Patients who have undergone rhinoplasty are extremely happy with the outcome and have the highest satisfaction rate.
How much does rhinoplasty cost in India?
Rhinoplasty has become very popular and common these days. Although the surgery is common the rhinoplasty cost can sometimes be a bit too much for you especially if you are considering any western or other developed nations. 
However, rhinoplasty surgery cost in India is almost half that compared of the western world. 
The cost of the comprehensive evaluation before the procedure is around USD 500-800 (37993 – 60789 INR). 
The cost of nose surgery in India ranges from 1800 to 2500 USD (136777 – 189968 INR). 
The rhinoplasty cost varies based on:
Expected duration of surgery

The hospital and doctor chosen

Your choice of city

Based on the procedure and implants required

Whether you are undergoing the procedure for the first time or if it is revision surgery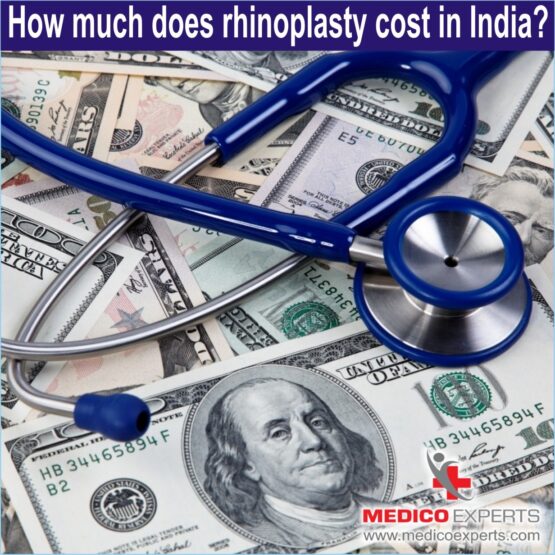 Frequently Asked Questions and patient concerns:
1. Is rhinoplasty a simple procedure?
Rhinoplasty is not a simple procedure. Rhinoplasty requires the expertise of well-trained and experienced cosmetic surgeons. The surgery usually takes around 2-3hours and even the slightest mistake can adversely affect your appearance.
Also, rhinoplasty surgery is not a standard procedure that is the same for everyone. For each nose job, your doctor tailors the procedure keeping your preference in mind.
2. What are the complications associated with rhinoplasty?
Every surgical procedure has its own risks. While some surgical procedures may cause severe complications, fortunately, the risks associated with rhinoplasty are minimal and can be managed by your doctor.
3. Can I go back home on the same day after the surgery?
Generally, your doctor may discharge you on the same day after the procedure. However, if you are having nausea, vomiting or dizziness after the procedure or any other symptoms your doctor may advise you to stay in the hospital for them to monitor you.
4. Who performs rhinoplasty?
Typically, a board-certified plastic surgeon or otolaryngologist (ENT) can perform rhinoplasty surgery. 
5. Is rhinoplasty painful?
Rhinoplasty is not painful. However, a few people may experience pain and slight discomfort soon after the treatment which usually subsides within a few days.
6. What is the recovery timeline like?
There would be bandages on the nose for around 7 days after surgery. The bandage will help to reduce the swelling and keep the bones and cartilage in place. The stitches used will be dissolvable. The daily activities can be started in the next 10 days after surgery. The rigorous activities will be restricted for around 7-8 weeks.
7. Can my breathing be improved during rhinoplasty?
Yes, rhinoplasty can change the cosmetic appearance of the nose as well as repair functionality. A highly experienced cosmetic surgeon will be able to do both cosmetic and functional nasal surgery which is likely to repair nasal breathing and provide a more attractive nose.
8. What is the difference between a rhinoplasty and septoplasty?
While considering a nose job we often get confused between rhinoplasty and septoplasty. While both rhinoplasty and septoplasty involve correction of the nasal structure they are not the same.
The rhinoplasty surgery helps in changing the shape of your nose thereby enhancing your look while ensuring improved breathing through the nose. As we know that both the shape of the nose and ease of breathing are interrelated.
Septoplasty surgery helps to improve breathing by straightening the deviated nasal septum- wall present inside the nose which divides the right and left side of the nasal passages -. Septoplasty is usually done to ensure that you breathe easily from your nose. Generally your doctor may suggest you to couple septoplasty with a rhinoplasty.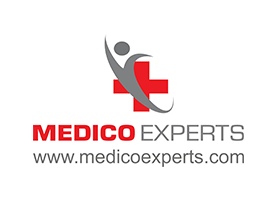 MedicoExperts is a Global virtual hospital which is established to offer quality healthcare services at affordable pricing without compromising the success rates of the treatment.
MedicoExperts is having a network of highly experienced super specialist doctors and well equipped hospitals across the globe and offering second opinion through online video consultation and surgical interventions through its empanelled super specialist doctors at its network hospitals in 17 countries from 3 continents.
By the virtue of its approach and model, MedicoExperts is successfully achieve to deliver
Latest and most advanced treatments with success rates of international benchmarks.
Multiple cost options depending upon the hospital facilities, with the same doctor.
Treatment option in multiple cities/state/countries.
Trust and peace of mind.
Most suitable for patients who are looking for:-
Planned Surgeries and treatment from most experienced doctors and at multiple cost options as per hospital facilities with best possible outcomes.
Second Opinion from expert doctors.
Complex cases involving multi specialities
International patients looking for treatment from Indian doctors