Regain full function of your knee with the best PCL reconstruction in India
Hey! Are you experiencing pain in your knees after you hurt your knees severely? then try PCL reconstruction in India.
Life is uncertain, and that is what makes life adventurous. While enjoying the adventures of life we face some challenges, like accidents that can affect the quality of our life. 
While life goes on, living in pain is not a solution.
Erase your painful memories of your accident by fixing any damage to your posterior cruciate ligament with posterior cruciate ligament surgery or PCL surgery like Arman did.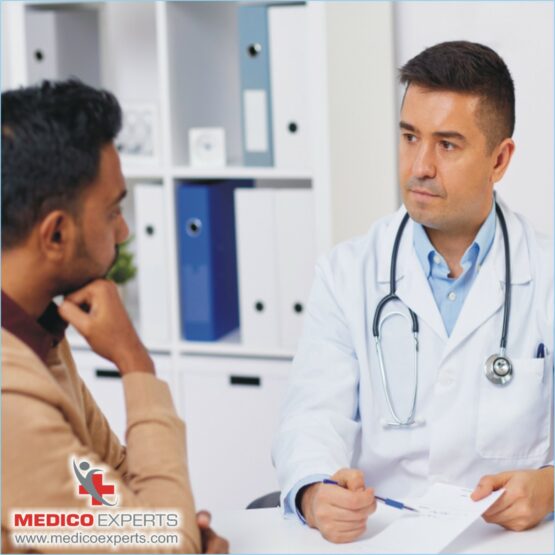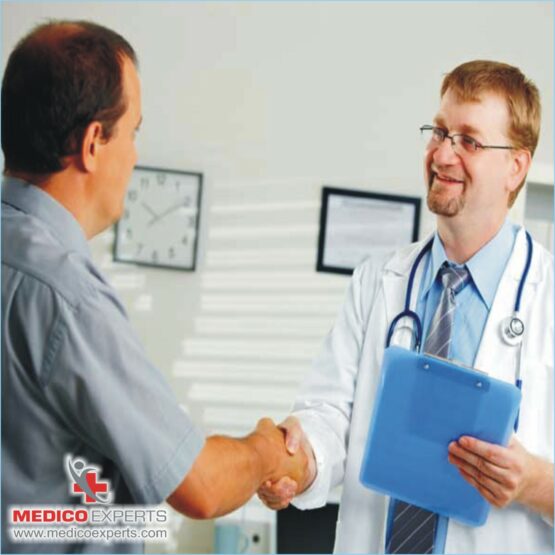 Arman, a 25-year-old budding architect, loved designing commercial spaces and buildings. While Aman was enroute to a project site his car met with an accident. Although the accident was not severe, the accident changed his life. 
After recovering from the accident, he constantly felt pain behind his knees. The pain was too intense and Aman was not able to move around at construction sites because of the pain. 
Distressed by the pain Aman visited his doctor who after an inspection told Aman that his posterior cruciate ligament was hurt during the accident which is causing the pain. The doctor further suggested surgery to fix the damaged ligament. 
Aman started looking for doctors for his PCL reconstruction surgery. After searching online he came across the MedicoExpert website and contacted our sales team to enquire more about the procedure. 
Once our sales team received Aman's enquiry they connected him and scheduled an online consultation for Aman with one of our empanelled doctors. During the consultation, our doctor answered the questions that Aman had about the surgery. 
After the consultation, Aman was confident about undergoing the procedure and flew to India.
Once Aman reached India MedicoExperts ensured hassle-free hospitalization for Aman. After confirming Aman's eligibility to undergo the surgery, doctors performed PCL reconstruction surgery on Aman. 
What is the posterior cruciate ligament or PCL?
The posterior cruciate ligament is the strongest ligament that is located in the knee. The posterior cruciate ligament is one of the several ligaments that attach the tibia to the femur. This ligament is essential in managing the front and backward movement of the knee. 
Generally, the posterior cruciate ligament injury often occurs along with injuries to the other structures in the knee, like injury to the cartilage, other ligaments, or the bone.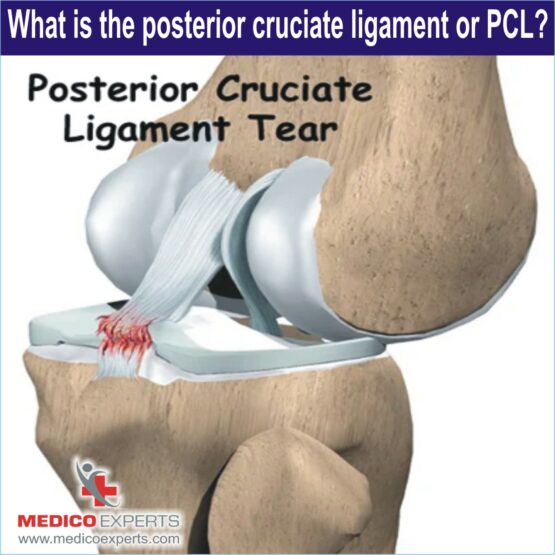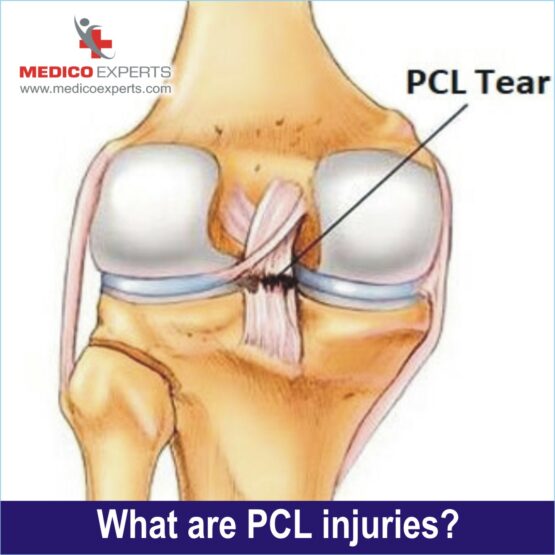 What are PCL injuries?
A tear or sprain of the posterior cruciate ligament (PCL) is termed a PCL injury.
PCL injuries are most common among sportspersons or people who met with a road accident where their knees got injured. 
Usually, after a PCL injury, your knee swells and becomes unstable. Also, you may experience severe pain in your knee joint that can restrict your movement.
During Grade 1 the PCL has been mildly damaged which can manifest itself as a PCL sprain or partial PCL tear.
PCL injuries are rare and are usually referred to when the ligament is stretched beyond a limit where it gets torn almost completely. However, some part of the ligament is still intact.
When the PCL is completely torn and it no longer provides any stability to the knee joint, it is classified as a grade 3 PCL tear.
What are some signs and symptoms of a PCL injury?
Typical symptoms of a PCL injury are:
Pain along with swelling at the knee joint

Knees become stiff due to the injury

The knee joint may feel unstable

It may become difficult to walk because of the pain and swelling
To rule out a Knee joint fracture, X-rays may be required. However, soft tissue damages are not visible on X-rays.
An MRI helps in identifying hard and soft tissue damages in your body. An MRI can reveal the extent of a PCL injury as well as will help to identify signs of damage to other knee tissues.
Ultrasound helps in visualising the internal structures like ligaments, tendons, and muscles of the knee.
What is PCL reconstruction surgery?
PCL reconstruction surgery or posterior cruciate ligament surgery is a complex procedure that involves replacing the torn or damaged PCL either with one's tissues or from some donor's cells. 
Owing to the large size of the PCL, generally, doctors call for donor tissues for this surgery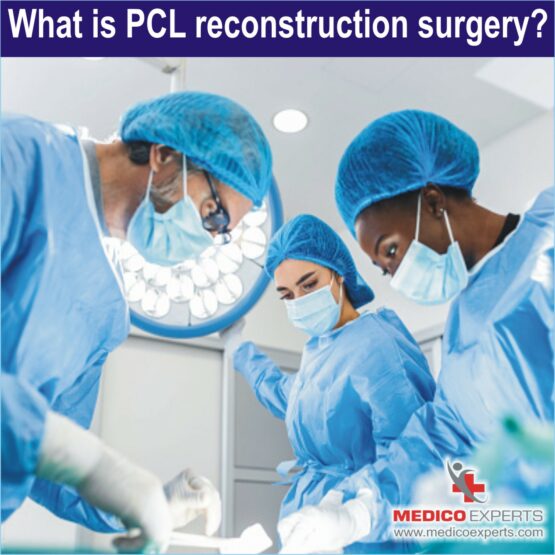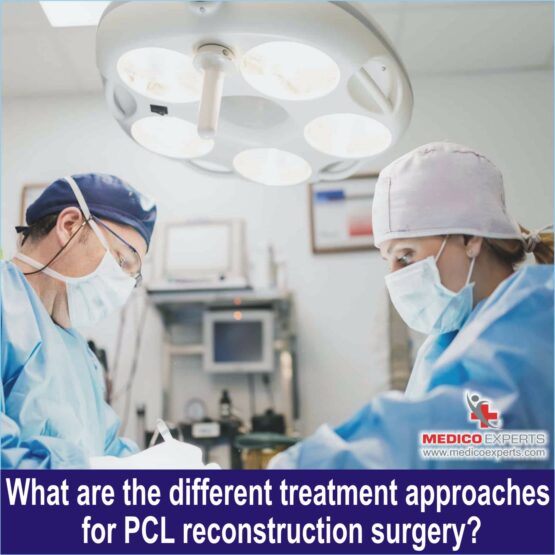 What are the different treatment approaches for PCL reconstruction in India?
PCL (Posterior cruciate ligament) is an essential ligament that helps in forming the knee joint. Any injury to this ligament directly affects our ease of mobility.
To ease the shortcoming your doctor can suggest to you either non-surgical interventions or sometimes surgery. 
The selection of treatment mainly depends on the evaluation done by your doctor depending on the extent of the damage and your overall health condition. 
Let us understand more about the surgical approaches to managing PCL injury:
In this procedure, the partially or completely torn PCL ligament is repaired by sewing it back together using sutures. However, studies have shown that the PCL repair may fail over time and may require revision surgery or reconstruction.
In this procedure, the torn PCL ligament is replaced by using a substitute graft taken from either of the following sources:
Hamstrings Muscle Tendon AutoGraft taken from the patient's knee
Patellar Tendon AutoGraft is taken from the patient's knee
Quadriceps Muscle Tendon AutoGraft
Allograft is a graft taken from a cadaver's patellar tendon, posterior tibialis tendon, Achilles tendon, Gracilis or Semitendinosus Tendon
How to choose a country for posterior cruciate ligament reconstruction surgery?
Posterior cruciate ligament surgery is a complex surgery and may require the expertise of well-trained doctors and the availability of world-class healthcare facilities.
If you are finding it challenging to decide on a country where you could have your posterior cruciate ligament reconstruction procedure done do not worry. Here are a few tips that can help you choose the best country for undergoing the procedure:
Choose a country that has advanced healthcare facilities

If the cost of the procedure is one of your main concerns then choose a country that offers the best healthcare facilities at an affordable cost.

It is essential to choose a country that has frequent flights from your home country for better connectivity.

By selecting a country that has well-developed local transportation facilities you ease your local commuting while you are in that country.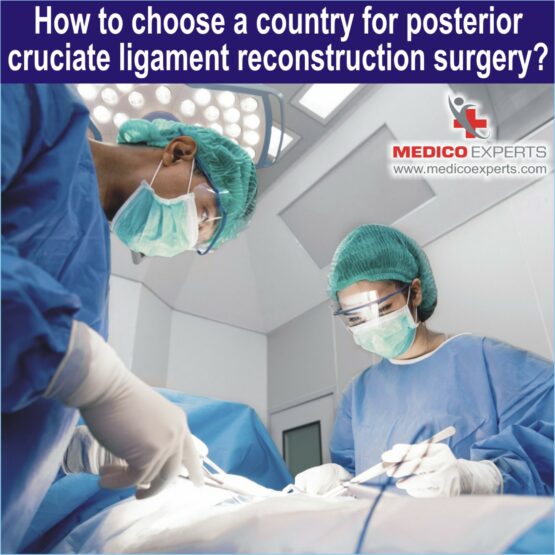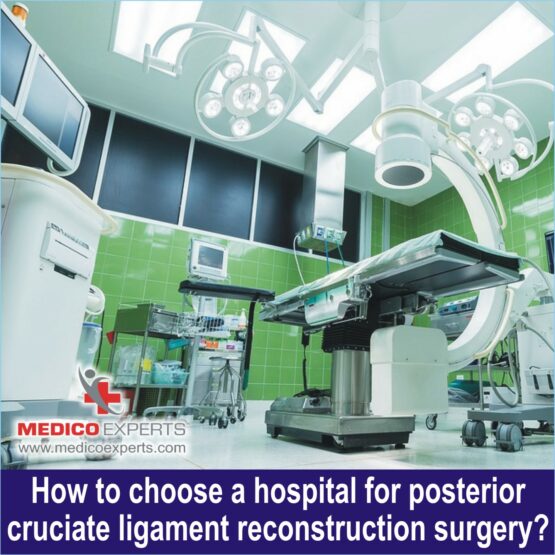 How to choose a hospital for PCL reconstruction surgery in India?
Choosing a hospital for the posterior cruciate ligament is crucial because the hospital you have chosen greatly impacts the procedure's success rate and your overall treatment experience.
By choosing a NABH and JCI accredited, you decrease your chance of contracting any post-procedural infection or complications.
Also, while choosing a hospital for your posterior cruciate ligament reconstruction, kindly ensure that the hospital is equipped with, a modern healthcare treatment facility and has good healthcare service professionals who are well trained to manage any post-procedural complications. 
How to choose a doctor for PCL reconstruction in India
Choosing a doctor for your posterior cruciate ligament reconstruction surgery is very crucial because the expertise of your doctor to perform the surgery ensures an increased success rate of the procedure. 
Also while choosing a doctor you must ensure that the doctor has successfully performed several posterior cruciate ligament reconstruction surgeries earlier in his practice. 
Moreover, choose a doctor with whom you feel comfortable sharing your concerts and any doubts about the procedure.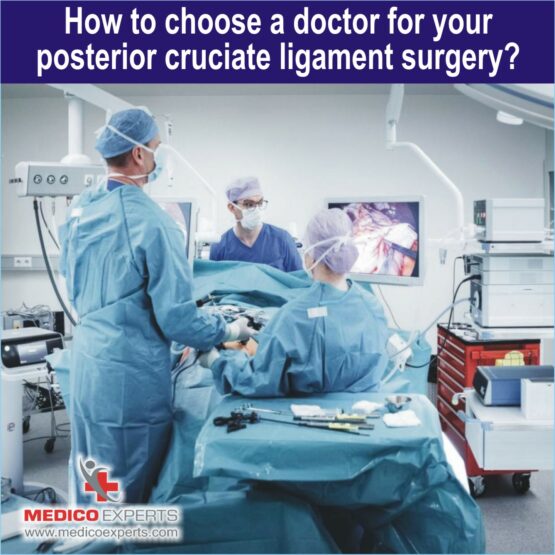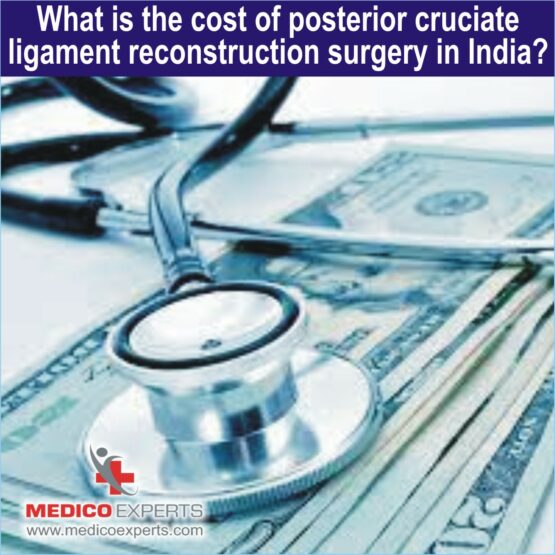 What is the cost of PCL reconstruction surgery in India?
Typically the cost of PCL surgery cost in India is around USD 3,500 to USD 5,000 or (3,00,000 to 7,00,000 INR). 
However, the cost of the procedure may vary depending on various factors like the city, hospital, type of surgical procedure you have opted for and doctor you have selected.
Sometimes the cost may also vary because of some complications which may arise after the procedure. 
Also, you need to undergo some tests before the PCL ligament surgery which may cost you around USD 500 or INR 40,000.  
Frequently Asked Questions and patient concerns:
1. When is a PCL reconstruction surgery performed?
PCL reconstruction is most frequently performed in athletes or for people who hurt their knees in a car accident where their bent knees dashed against the dashboard. 
2. Can PCL injury be avoided or prevented?
Anyone can lower the risk of PCL injuries by training exercises that work on balance, power, and agility. In addition to this, if you are doing plyometric exercises, such as balance and jumping exercises, will enhance your neuromuscular conditioning and muscular reactions which will reduce the risk of PCL injury.
3. What are the most common causes of PCL injury?
It is stated that PCL injuries are more often due to a strike to the knee when it is bent. The most common causes of PCL injuries include:
Strike to the bent knee against dashboard during road traffic accidents

Falling on a flexed knee

Other most common causes of PCL injuries include sports such as football, baseball, soccer, and skiing.
4. How to diagnose PCL injury?
The doctor will physically examine if both the knees, the normal one and the one with the soreness are the same or look different. He/she may also suggest getting an MRI, ultrasound or X-ray done to determine the extent of the damage. Arthroscopy is at times done to precisely determine the extent of the injury and provide real-time repair or correction.
5. What can I expect after PCL surgery?
PCL reconstruction is a minimally invasive surgery, which offers fast recovery so that you can return to functional activities soon. With intensive rehabilitation, you can expect good recovery and return to the functional level within three months. However, it may take 6 months to start the usual sports activities.
6. What are the symptoms of PCL injury?
The common symptoms of PCL injury are:
Pain behind the knee

Swelling around the knee

Wobbling or instability of the knee joint

Difficulty in walking
7. Are there any complications of PCL injury?
If left untreated PCL injury can sometimes cause:
Instability of knees

Fracture

Injury to the adjacent blood vessels
8. What are the non-surgical approaches for treating PCL injury?
The non-surgical approaches for treating PCL injury include:
Knee brace for stability and protection
In acute or partial PCL tear, one can use tailor-made knee braces and stabilisers to lessen the stress on the injured ligament and curb the movement at the knee and thereby aiding in the healing process.
 Conservative management
This is indicated in cases of acute and partial PCL tear, in which proper rest is advisable with limited to no mobility to protect the joint and heal the ligament.
Physiotherapy
Conservative Management is often combined with an intensive rehabilitation program to regain the normal range of motion and increase stability and strength at the joint to perform activities of daily living.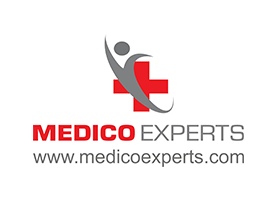 MedicoExperts is a Global virtual hospital which is established to offer quality healthcare services at affordable pricing without compromising the success rates of the treatment.
MedicoExperts is having a network of highly experienced super specialist doctors and well equipped hospitals across the globe and offering second opinion through online video consultation and surgical interventions through its empanelled super specialist doctors at its network hospitals in 17 countries from 3 continents.
By the virtue of its approach and model, MedicoExperts is successfully achieve to deliver
Latest and most advanced treatments with success rates of international benchmarks.
Multiple cost options depending upon the hospital facilities, with the same doctor.
Treatment option in multiple cities/state/countries.
Trust and peace of mind.
Most suitable for patients who are looking for:-
Planned Surgeries and treatment from most experienced doctors and at multiple cost options as per hospital facilities with best possible outcomes.
Second Opinion from expert doctors.
Complex cases involving multi specialities
International patients looking for treatment from Indian doctors